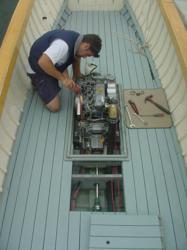 Ft. Lauderdale, FL (PRWEB) October 22, 2012
When the Florida public flocks to the Fort Lauderdale International Boat Show in late October, they will see a diverse range of watercraft—from small skiffs to luxury superyachts. But one exhibitor will feature something beyond boats: IYRS, a Rhode Island marine trades and technology school, will showcase the technology behind these watercraft and the career opportunities that fuel their creation.
IYRS will be at the Fort Lauderdale International Boat Show from October 25 to 29. With campuses in the sailing capitals of Newport and Bristol, Rhode Island, IYRS trains students in highly technical and craft-oriented wood and composites construction, as well as the installation and maintenance of modern systems used on boats.
In an era when many college students are graduating with high debt and slim job prospects, this Rhode Island school is experiencing record popularity. This fall, the school accepted its largest incoming class; some 30% of the students are military veterans and recent High School grads who are choosing IYRS as their route to sustainable careers.
IYRS offers three full-time programs that range from 6 to 20 months. The Marine Systems and Composites Technology programs are 6 months in duration; the next running of these two programs begins in March 2013.
Building with composites is a type of construction pioneered by boat builders; the technology has wide application in today's industry for building structures that need to be light yet strong, with applications in aerospace, transportation, wind energy, marine and other sectors. The program is sponsored in part by the U.S. Department of Labor, Employment and Training Administration.
The school also offers a 20-month Boatbuilding & Restoration program where students learn their woodworking skills while restoring a fleet of classic wooden boats. This program runs on a September-June academic calendar.
IYRS is approved to certify educational benefits for eligible veterans, including the Post-9/11 G.I. Bill (Chapter 33), the Montgomery G.I. Bill (Chapter 30) and Veterans' Vocational Rehabilitation Programs (Chapter 31). This fall, military veterans looking to translate their skills to new careers make up 14% of the incoming class.
Veterans studying at IYRS have a wide range of experience: from 20-year careers in the military to a tour of duty in Iraq or Afghanistan. Veterans who have graduated remark on the uncanny synergy between their military experience and becoming an IYRS craftsman, including a high emphasis on teamwork, a task-driven mindset and adapting to new situations.
For more information, visit the school's website at http://www.iyrs.org. Individuals who would like more information before heading to the Ft. Lauderdale International Boat Show can contact Admissions Associate Holly Ashton (hashton(at)iyrs(dot)org / 401-848-5777, ext. 216).