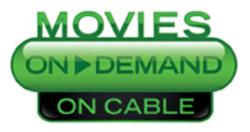 This Halloween you can host your own fright-fest
National Harbor, MD (PRWEB) October 22, 2012
REELZCHANNEL's Leonard Maltin, host of "Maltin on Movies" and author of the New York Times bestseller, "Leonard Maltin's 2012 Movie Guide," gives a taste of what's brewing in the Movies on Demand on cable cauldron throughout October.
"This Halloween you can host your own fright-fest" said Maltin. With a click of the remote, digital cable customers will have a howling good time this October with Movies on Demand. Most releases are available the same day as the DVD. And best of all, every movie listed on the menu is always in stock and available instantly, without ever having to leave your home. Movie lovers searching for other new releases, can access a list of the latest films now playing on Movies on Demand at http://www.rentmoviesondemand.com.
Here are some of offerings on Movies on Demand in October:

Dark Shadows (started 10/2) – starring Johnny Depp and Michelle Pfeiffer
People Like Us (started 10/2)–starring Chris Pine and Elizabeth Banks
#HoldYourBreath (started 10/5 same day as theatrical)—starring Katrina Bowden and Randy Wayne
Rock of Ages (started 10/9)—starring Tom Cruise and Russell Brand
The Raven (started 10/9)—starring John Cusack and Luke Evans
Prometheus (started 10/11)—starring Noomi Rapace and Charlize Theron
2016: Obama's America (started 10/12)—Documentary
Excuse Me for Living (started 10/12 same day as theatrical)—starring Tom Pelphrey and Christopher Lloyd
Chernobyl Diaries (started 10/16)—starring Devin Kelley and Jesse Mccartney
Moonrise Kingdom (started10/16)—starring Bruce Willis and Edward Norton
That's My Boy (started 10/16)– starring Adam Sandler and Leighton Meester
Madagascar 3: Europe's Most Wanted (started 10/16)– voices by: Ben Stiller and Chris Rock
Abraham Lincoln: Vampire Hunter (starts 10/23)– starring Benjamin Walker and Dominic Cooper
Seeking a Friend for the End of the World (starts 10/23)– starring Steve Carell and Keira Knightly
Tyler Perry's Madea's Witness Protection (starts 10/23)—starring Tyler Perry and Denise Richards
Magic Mike (starts 10/23)– starring Channing Tatum and Matthew McConaughey
The Campaign (starts 10/30)– starring Will Ferrell and Zach Galifianakis
Ruby Sparks (starts 10/30)– starring Paul Dano and Annette Bening
Safety Not Guaranteed (starts 10/30)– starring Aubrey Plaza and Mark Duplass
About REELZCHANNEL
REELZCHANNEL—TV About Movies® is the only cable and satellite network devoted to delivering entertaining and informative programming that is all about movies, including the celebrities, fashion, music and stories behind the stories. The network is also home to ambitious television events, mini-series and series featuring big stories and big stars as seen with the Emmy®-winning The Kennedys and coming in October 2012 with Ken Follett's eight-hour mini-series World Without End. With shows featuring movie and entertainment experts, including Leonard Maltin, Richard Roeper and Sam Rubin, viewers get trusted insight into movies wherever they're playing, whether in theaters or at home.
REELZCHANNEL reaches more than 64 million homes on DIRECTV channel 238, Dish Network channel 299, Verizon FiOS TV channel 233, AT&T U-verse channels 799/1799HD and cable systems nationwide. Find REELZCHANNEL in your area by entering your zip code at http://www.reelz.com/watch. Owned by Hubbard Media Group, REELZCHANNEL is headquartered in Albuquerque, NM with national ad sales based out of New York City with offices in Boston, Chicago and Los Angeles and an entertainment bureau in Los Angeles.
For World Without End press materials including high-resolution images, please visit http://www.reelz.com/wwe-epk
Experience the free World Without End second-screen app for iPad, iPhone, Android and web browsers at http://www.reelz.com/secondscreen
For more information, please contact the REELZCHANNEL Media Line
877- REELZTV (733-5988) / pr(at)reelz(dot)com
About Movies on Demand® On Cable
The Movies on Demand® initiative is an integrated marketing campaign produced by the Cable & Telecommunications Association for Marketing (CTAM) Marketing Co-op. The cable company sponsors include Armstrong, Atlantic Broadband, BendBroadband, Bright House Networks, Comcast, Cox Communications, iO TV, Mediacom, Suddenlink and Time Warner Cable. The studios include 20th Century Fox, Lionsgate, NBCUniversal, Paramount, Relativity, Sony/Columbia, Summit Entertainment, The Walt Disney Studios and Warner Bros. Entertainment, Inc. The initiative is also supported by CTAM corporate partner, iN DEMAND.
For Media Inquiries Contact:
Jason D. King, ABC
Senior Director of Communications & Media Relations
CTAM
301.485.8914
Jason(at)ctam(dot)com