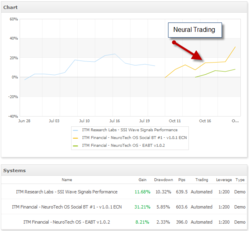 Boston, MA (PRWEB) October 22, 2012
Trending new startup, ITM Financial, who introduced the Social Sentiment Index into the forex market this year, has announced the release of their new software, Neural Network Forex Trading. Neural network forex trading uses the technology advancements discovered in recent years in the fields of DNA sequencing and brain mapping. The term neural network has traditionally been used to refer to a network or circuit of biological neurons. The modern usage of the term can sometimes refers to artificial neural networks, which are composed of artificial nodes. "By using the advances in science and analytics to our advantage in the financial markets, it has been a great discovery for our trading desk as well as our clients," says CEO, Curt Dalton.
ITM Financial introduced the idea of social indicators, such as Facebook, Twitter, and Google searches, into trading platforms early this year. The term for the type of trading that mixes traditional analysis, such as Elliott Wave theory, with more modern signals such as Internet activity, is referred to as "SSI Signals", or Social Sentiment Indexing. "When introducing such a new idea to the market, we had to make sure we have 3rd party verification for all our returns." says Curt. "That is why we publish all our results through a 3rd party monitor, like MyFxbook, in our case."
http://www.myfxbook.com/members/itmfinancial
Neural network trading is the first of its kind on the market. It is currently set up for forex traders and institutions that want the signals. Development is currently underway for a US stock market trading platform that uses tradition methodologies such as P/E and moving averages, but also integrates social sentiment indicators and triggers as well. "We are just scratching the surface on what our software can do as far as the predictive models we compute every day. As far as I know, we are the only people in the world using social signals and advanced neural designs and algorithms in our trading and money management solutions," adds Curt. "Being a forex signal provider with verified results has really created a larger platform for us to reach the investment world. We have set up a full one hour demonstration of the platform that people can watch when it is convenient to them. It is a jaw dropping video, the power of the system is very clear in the webinar."
The forex market, or currency market, is generally seen as a place for investors to hedge their portfolios against sudden or drastic currency movements. It is also used by traders in non-currency trading such as oil, commodities, and precious medals. Hedging has become increasing important to modern portfolio theory (MPT) as worldwide financial disturbances have been on the upswing over the past 4 years.
For more information about ITM Financial please visit http://www.ForexSocialSignals.com .
For a full length demonstration of Neural Network Trading visit