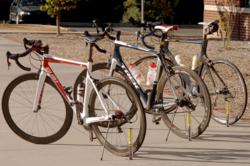 RBR (Road Bike Rider) says:"An RBR reader turned me on to this great new product, and I've been using it ever since". by John Marsh see complete review at www.roadbikerider.com
(PRWEB) October 23, 2012
Designed with durability and light weight in mind, the Upstand is crafted out of carbon fiber, 6061 aluminum, and an axial magnet. The total weight is 35 grams (weight of a single energy gel packet) and adds only 7 grams of weight to the bike.
The "Upstand" does this by simply installing the 7 gram tab (about the size of a quarter) behind the rear quick release and popping it in place. It stays there by virtue of a strong axial rare earth magnet. When not in use, simply pull off the Upstand fold in half (held together by internal shock cord) and store in your jersey pocket or seat bag.
"Out of pure frustration, I knew there had to be a way to stand my bicycle when I stopped to take a break or arrived to my office etc. I certainly was not going to hang a kickstand on my bike, and modern design has all but removed the area where a traditional bicycle kickstand would go," stated Founder and inventor Garrett Blake.
Handcrafted and produced in the USA, the Upstand is available for all bicycle types and ships worldwide. For more information visit http://www.upstandingbicycle.com for more info, dealer inquiries, install videos, and to order.
About the Upstand Bicycle Company
They are a committed crew of die hard cyclist. They dedicate their time between designing new , innovative products, riding and family. Life on two wheels is their goal and improving that for their customers is their purpose. They are also the operators of 2x2 Cycles LLC, producing bicycle racks and golf carriers for motorcycles along with other innovations.
Thanks for you time, and interest
Feel free to contact us at 1-919-590-0328