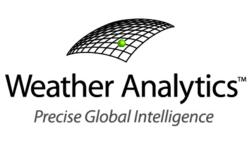 The better the weather data, the longer the history, and the more local to the site - the more accurate the results.
Alexandria, VA (PRWEB) October 23, 2012
Weather Analytics today announced the launch of their enhanced TMY and new AMY products – produced from its worldwide network of statistically stable and comprehensive weather data. Weather Analytics features over 33 years of global historical data, current conditions, and hourly 7-day forecasts for over 500 climate variables.
"Our clients – primarily in the energy modeling and building efficiency sector – were ecstatic about our capability to provide over 33 years of localized historical weather data for anywhere in the world. They asked us to produce Typical Meteorological Year (TMY) files for all of these locations to support modeling and design and to add Actual Meteorological Year (AMY) files to support energy efficiency analysis and management – and we answered," said Chuck Khuen, co-founder and executive vice president of Weather Analytics.
Constructed using Department of Energy-specified techniques, Weather Analytics now offers TMY and AMY files in five separate formats for over 650,000 worldwide locations designed to work with all of the major modeling systems for building modeling and simulation, site selection and energy analysis. Current sources outside of Weather Analytics only offer TMY files for a few thousand locations worldwide – located primarily around airports in the U.S. and Europe. The Weather Analytics offering is a huge leap forward in providing scientifically reliable and easy-to-access weather data close to the location being modeled – anywhere in the world.
"All building modeling and simulation systems require local weather history and climate data to complete their analysis. The better the weather data, the longer the history, and the more local to the site – the more accurate the results," continued Khuen. "We saw an obvious need for TMY and AMY files local to buildings and construction sites worldwide for business growth and construction happening abroad – from young, booming cities in Asia to remote locations in Central and South America."
TMY files capture typical conditions, and are now available from Weather Analytics in TMY2 (most current 30 years) or TMY3 (most current 15 years) constructs. AMY files are becoming increasingly important as the movement toward energy efficiency design drives heating and cooling systems to be only as big as they have to be and to meet the demand for accurate baseline ratings for building retrofitting. AMY files are used to cross check designs for selected extreme weather years and to monitor, manage and confirm the actual performance of a building. They are actual hourly data sets over the last year or time period where energy use data is available local to the site with the errors and gaps removed. They are conveniently available in the same formats as Weather Analytics' TMY files –EnergyPlus (EPW), TM2, TM3, CSV and .BIN formats – to support as many modeling systems as possible.
"Ongoing monitoring and performance optimizing will require continued access to on- or near-site actual weather conditions, and this may extend to precision forecasted conditions to drive predictive control," stated Khuen. "Many people think that energy consumption is driven by external air temperature, but factors such as relative humidity, wind speed and direction, direct and indirect solar radiation, and reflected heat from the ground and surrounding areas need to be considered as well."
Weather Analytics provides easy-access, on demand climate data at http://www.WeatherAnalytics.com, where clients can simply pick their location and time period and conveniently download energy modeling files directly from the website.
About Weather Analytics
Weather Analytics answers global intelligence questions by providing statistically stable climate and forecast data formed by an extensive collection of historical, current and forecasted weather content, coupled with proprietary analytics methodologies. Weather Analytics finds, assembles, cleans and formats weather data so that our clients don't have to. We offer more than 500 weather variables for enhanced weather intelligence and risk mitigation. Our climate data is delivered in easily accessible formats that allow customers to focus their efforts on solving business problems versus aggregating and cleansing data from raw sources. Historical, current and forecasted weather conditions worldwide are available for purchase at http://www.WeatherAnalytics.com.