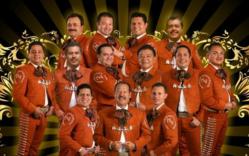 El Mejor Mariachi del Mundo!
Modesto, CA (PRWEB) October 24, 2012
Considered "El mejor mariachi del mundo"--the world's best mariachi band--since the 1950s, Mariachi Vargas de Tecatitlán last appeared at the Gallo Center for the Arts two years ago in a sold-out performance. The group returns for a concert on Friday, November 9 at 8 pm.
Tickets are on sale now and range from $30 to $80. Groups of 15 or more are eligible for a 15% discount. For tickets and more information, visit GalloArts.org or call (209) 338-2100.
Founded in 1898, Mariachi Vargas is one of the most important ensembles in Mexican music history. For five-plus generations they have endured as the quintessential mariachi, all the while modernizing the genre and raising the bar for other ensembles with their more refined and meticulously trained musicians. The group has appeared in more than 200 films.
This event is sponsored by Walmart. The Gallo Center for the Arts' 2012-13 Premier Partner is Boyett Petroleum.
###