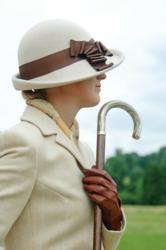 Lady Lake, Florida (PRWEB) October 22, 2012
Walking-Canes.Net has just received the fall and winter collection of basic and decorative walking canes from Europe. We traveled to Europe to select the best of the best from our well established suppliers. The new designs are beautiful and they will compliment any fashion statement you are trying to make.
We have included in the new collection several new Folding Canes as well as the most popular Hiking Sticks. The holiday season is upon us and everyone will want to take a look now at the new line of canes and sticks before they sell out. Included in the new collection are the Shepherd's Staff, Crosshead, Knob Handles, Thumb, and the Blackthorn Walking Sticks. The Blackthorn supply is limited as always because of the popularity of them. Our buyer can only get a few and then they are gone until the manufactures harvest more blackthorn bushes in the next season. In addition the new rustic sticks are and everyday essential item for many of our users. We can offer them to you in many styles and if free form is your thing have us make you by hand. You will enjoy it for many years to come.
Walking Canes have come a long way in design and function and many of customers now have more than one cane in their collection. The fall colors are bright and cheerful and the winter colors are just as brilliant in color. Many of the 1600 designs and styles we carry are available in both men's walking canes and ladies walking canes. The main difference between the two is the smaller handle for the ladies and the width of the shaft. They can all be cut to your size by one of our expert craftsman. If you need it short or tall we can help you. Our How to Measure page will guide you on sizing.
Folding Floral Designs this year consist of Black, Cream and Blue and many other colors to help compliment your outfit. Folding Canes are so easy to use and they take up no space in your luggage or pocketbook. We ship all orders that are not handmade or custom made in 24 to 48 hours of receiving it. If you feel you need personal help in the selection process call us toll free at 1-888-928-1774