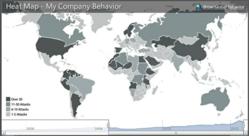 Easy Solution's DMS - Over 800,000 unique phishing attacks found in the last 12 months with 76% proactive detection.
Sunrise, FL (PRWEB) October 21, 2012
Easy Solutions, Inc., the leading online fraud prevention company, announces a major product enhancement of Detect Monitoring Service (DMS). DMS is relied upon by financial institutions as a proactive, cloud-based solution for phishing, pharming and malware.
DMS provides 24/7 monitoring in real time to rapidly identify, shut down and recover from online scams that mislead customers through fraudulent use of corporate identities.
The unique value of Easy Solution's Detect Monitoring Service comes from its ability to proactively detect fraudulent activity with proprietary connection analysis technology. DMS identifies specific patterns and behaviors that typically occur in the early stages of a phishing scam, and thus provides a method to stop an attack before it becomes a real threat.
DMS is accessed via a cloud-based portal which offers an easy way to track incidents and monitor live threats in real-time. DMS customers can also access the list and resolution history of all incidents and download reports that assist with regulatory compliance.
Existing customers will immediately benefit from the upgrade and will experience several feature additions and enhancements.
Improvements of the new version of DMS:

Real Time Monitoring visualization shows all connections to the client's protected sites and the alerts created when suspicious activity is found.
New "Referrer Malicious Alert" feature enhances the detection and analysis of phishing sites.
Live Heat Map Report shows the host countries of phishing and malware attacks against the client's protected sites.
New User Rights Assignment Interface that supports feature-based access control of multiple DMS users.
Custom Time Zone can now be defined for incidents and history reports.
Key Features of DMS:
Detects and deactivates phishing attacks targeting your business.
Flash Active Monitoring Script' for invisible monitoring of protected sites.
Powerful proprietary methodology for connections analysis allows early notification of malicious activity.
Over 800,000 unique phishing attacks found in the last 12 months with 76% proactive detection.
Proven track record in disabling fraudulent websites with an average shutdown time of 3.6 hours.
Customer Portal enables easy reporting of new cases and fast access to comprehensive reports.
For complete details about Detect Monitoring Services, please visit:
http://www.easysol.net/newweb/Services/detect-monitoring-service
ABOUT EASY SOLUTIONS:
Easy Solutions is the only security provider focused exclusively on prevention and detection of electronic fraud. Easy Solutions provides products against phishing, pharming, malware, MITM and MITB attacks, multi-factor authentication and anomaly transaction detection.
Easy Solutions delivers a comprehensive and proactive approach to fraud prevention and works in alliance with industry leaders in other security disciplines supporting a wide range of heterogeneous platforms.
United States: 1401 Sawgrass Corporate Parkway, Sunrise, FL 33323. Tel. 1 (866) 524 4782
Latin America: Cra. 13A No. 98 – 21 Of. 401. Bogota, Colombia. Tel. +57 1 – 742 5570