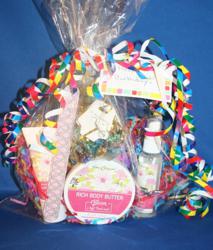 Most popular Ladies Gift Bag
Lake Mary, FL (PRWEB) October 21, 2012
http://www.ezgiftgiving.com has created a way to remove the stress over finding a great gift. The company prides itself on making life easier for shoppers. The company experts can create a beautiful, complete package including multiple custom tailored items along with a personalized card. For people who cannot decide what to give for a special occasion, they can fill out a brief survey and the EZ Gift Giving experts will take care of the rest. EZ Gift Giving has eliminated the need for gift wrapping and cards. The gift recipient receives a gift bag that also includes a personalized card. The gift can be shipped directly to the recipient or to the purchaser. The gifts are ideal for all special occasions including Birthdays, Holidays, Graduation, Promotions, Get Well, New mothers and Mothers' Day.
"We are very excited to be able to partner with many top gift vendors and provide complete packages with a personal touch," says owner and President Karin Hobin. "We didn't want to be in the drop shipment business as we understand that each customer is unique and deserves to be treated as unique." EZ Gift Giving currently offers gifts for women and plans to add men's gifts in the future.
EZ Gift Giving also gives users an option for choosing the most popular predesigned gift packages that are also ideal for special occasions. The site also gives two options for a monthly contest to win gifts and prizes. Please visit our website at http://www.ezgiftgiving.com for more details.