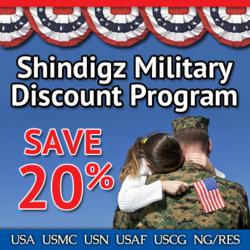 South Whitley, Indiana (PRWEB) October 19, 2012
Members of the U.S. military can now receive a discount on party supplies as a "thank you" for their service. Shindigz, the world's largest online party retailer, has started to offer a 20% product discount for members of the military.
This new benefit is designed to lower the cost of throwing parties for those who have served our country. Shindigz unique party supplies and decorations can be used for soldiers' birthdays, welcome home events, once-in-a-lifetime celebrations, and all other personal parties.
"We wanted to offer our U.S. military a special discount to thank them, in some small way, for the freedoms we enjoy because of the jobs they do," states Jacquie Downey, Director of Sales and Marketing at Shindigz.com. "If spouses log into their soldiers' accounts, they too can order supplies and receive the discount."
Whatever the event, whether it is a wedding, baby shower, anniversary, or bon voyage party, Shindigz offers this new military discount to help soldiers celebrate that special event. "One member of the U.S. Army, serving in Afghanistan, recently received a box of Captain America party supplies and spy glasses to celebrate a fellow officer's birthday," Downey said.
"Another Shindigz customer, serving overseas, was able to share a special moment with his pregnant wife in the states. The couple celebrated their first baby shower via SKYPE. He commented that he particularly appreciated that his life-sized standee was able to 'attend the event in person.'"
"The sacrifices these men and women take and the time spent away from their families is such an unbelievable feat," Downey notes. "We appreciate them and we support them."
For more information on the Shindigz Military discount, visit http://www.Shindigz.com/military.
About Shindigz
Since 1926, Shindigz has "made life more fun" for 22 million events through the manufacture and sale of personalized party supplies. It ships products from its facilities in South Whitley, Indiana across the United States, and around the world to 59 countries. With more than 34,000 products, the company provides customers with a complete party solution. For more information about Shindigz, go to http://www.Shindigz.com.