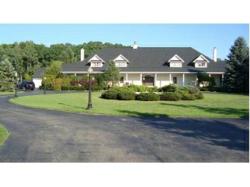 Amsterdam, NY (PRWEB) October 20, 2012
Rosa MacLeod is now providing a virtual tour for anyone interested in her million dollar listing. The mansion for sale provides opportunity for those interested in using it for a primary residence, for a vacation or weekend home, or even for development into a bed and breakfast. With close proximity to major local attractions but also the safety and privacy offered by the wrought iron fencing and security gating, this house for sale in New York is really the full package. In order to show future residents the many features of the home, Rosa MacLeod has just introduced the virtual tour that anyone can access via YouTube.
With the virtual tour of the home now available on YouTube, interested parties can see the million reasons why this mansion for sale is worth investing in. With brand new furnaces, air conditioners, and new granite counters in the kitchen, the mansion is not only 7.8 acres, but newly updated. The finished basement includes a bar (one of two located in the 8045 sq foot home) and a theater room that seats 46 people. The outside includes a pool resurfaced in 2010, a Victorian gazebo, and a water fountain within the large circular driveway. For those looking to host parties, there is not only a three-car garage, but also twenty parking spots available on the lot.
New York City is a three hour drive from the property, and other nearby attractions include beaches within ten minutes, the zoo, ski resorts, and the Saratoga Race Track and Casino. Although there is much to do in the immediate area, the mansion itself offers so much to see and do that it becomes its own private oasis. With a tennis court, gym/spa, and coming fully furnished, it is no surprise that many potential buyers are interested in obtaining the property. For those who want to check out the new virtual tour for this million dollar listing before it is off the market, visit http://www.youtube.com/watch?v=yrej9ugm9rs or call Rosa MacLeod at 518-348-8678 today.