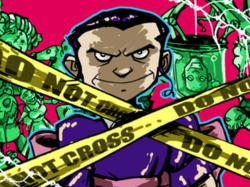 The Kickstarter community is great at helping artists make their dreams become a reality.
New York, NY (PRWEB) October 19, 2012
The Mischevious Life of Madeline Vander Gloom is a horror/thriller graphic novel, written by Muneera Mak, about a girl whose life is turned upside down after discovering a grave secret that her family has kept from her. After Madeline's Great Grandfather makes a deal with a gypsy queen to grant him wealth, a curse is bestowed upon the Vander Gloom's, and every generation must present their first born child to enter an alternate world of horrors.
Mak launched her Kickstarter campaign on October 10 and set the project's funding goal at $10,000. All of the funds collected during the campaign will go towards bringing the comic to print in both paperback and hardcover copies. The Mischevious Life of Madeline Vander Gloom Kickstarter campaign is scheduled to run for 40 days and will end on November 19 at 1:32am EST.
"I have gone to many publishers with my comic time and time again, and left empty-handed," says Mak. "But, the Kickstarter community is great at helping artists make their dreams become a reality."
The Kickstarter campaign offers many different rewards for those who back the project. Rewards range from the graphic novel itself to stickers, posters, t-shirts and more to soon be revealed. Mak has mentioned that she will add more exciting rewards at different funding milestones.
Muneera Mak has hired Command Partners, a Charlotte-based digital marketing agency, to carry out all online initiatives including the Kickstarter campaign. "We are very excited to ramp up the Kickstarter campaign of The Mischevious Life of Madeline Vander Gloom," added Amy Aussieker, Chief Strategy Officer of Command Partners. "With our expertise on Kickstarter campaigns and Mak's fabulous comic book project, the sky is the limit!"
If you would like to support Mak's project, visit The Mischevious Life of Madeline Vander Gloom's Kickstarter site here: http://bit.ly/MadelineV, Like the project on Facebook at https://www.facebook.com/madelinevandergloom and Follow them on Twitter @MadelineVGloom.
About Muneera Mak
Muneera Mak currently resides in the Middle East with her husband and son. She is a twenty-something up author, who is heavily influenced by Manga comics. During the day, she works as head of social affairs trying to better the community, but by night, Mak channels her love for cartoons, toys and pop culture and combines them into her work. When she is not drawing, creating or writing, Mak enjoys spending time with her family, playing video games, watching animation and reading comics.
About Command Partners
Command Partners works with clients around the globe and focuses on the top strategies for driving online visibility and lead generation, including social media marketing, search engine optimization, public relations, strategic advisory and social recruiting. To learn more about the company's services, visit http://www.commandpartners.com, Like them on Facebook or Follow them on Twitter @CommandPartners.