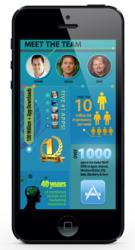 San Diego, CA (PRWEB) October 23, 2012
Following the wildly successful "App Code" program, the team is set to develop App Code 2.0, a new and improved version of the app building program, through the crowdfunding platform Indiegogo. App Code 2.0 will teach entrepreneurs how to create successful businesses by building mobile apps for smartphone platforms, such as iPhone or Android, with no programming knowledge or budget required.
App Code version 1.0 was a force in the app development industry. Over 1,000 entrepreneurs have gone through The App Code 1.0 in the last 9 months and about 5,000 apps have been created. Now the App Code team looks to take things to the next level. Starting October 22nd, the company is running a crowdfunding campaign to support the release of the next version of App Code.
App Code 2.0 will give its backers a huge leg up in the mobile app industry by giving them access to the very best in expert app development training as well as tools, including a redesigned App Builder, which is only accessible to program members. Backers will have the first opportunity to access the training program, at 60% of its regular sale price.
The new version of The App Code is designed to give even more entrepreneurs the skills and tools to build apps all on their own, even if they don't have a background in programming or development. Founder Amish Shah explains: "In the original App Code, we taught people how they could build hundreds of apps for little or zero cost, and no programming knowledge. It was a great success, but the Mobile App Industry is rapidly changing. We want people to continue to be successful building app businesses, so we're putting together the latest and greatest tools and training in App Code 2.0."
Even the training team has been redefined. Together Amish Shah, James Sol Radina & John Swartz have generated over 100 million downloads, they have over 1000 apps on the market right now, and have produced 5 apps that ranked #1. Currently their mobile apps are receiving 10 million ad impressions per week.
App Code 2.0 includes 6 in depth training modules (with over 50 videos) that will teach you how to build a sustainable app business step by step. You'll also get all the tools you need to design, develop and launch your app as well as support from App Code mentors and other app entrepreneurs from all around the world. The App Code Team is looking to raise $50,000 to develop and launch App Code 2.0. You can donate to App Code 2.0 at http://indiegogo.com/theappcode. The crowdfunding campaign will only be available for a limited time, then all participants will have to go to theappcode.com to purchase the program.
About:
The App Code was founded by Amish Shah. Amish is a serial entrepreneur who started and sold his app development company for over $2 million in less than 2 years. James Sol Radina & John Swartz recently joined the team to make a powerful triad.