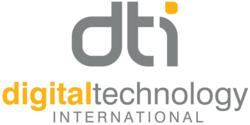 (PRWEB) October 23, 2012
Digital Technology International (DTI™) will showcase its digitally-focused solutions to a world-wide audience at the World Publishing (IFRA) Expo 2012 in Frankfurt, Germany, 29-31 October, on Stand 585.
IFRA attendees will experience a bold new Digital Technology International with its new logo design and suite of new cloud publishing solutions. The company's digital all ways theme will be reflected throughout the DTI stand with live demonstrations of its latest publishing solutions.

DTI Cloud: The fastest-performing cloud publishing platform in the industry is also the fastest-growing with more than 6.000 users and nearly 700 titles since it was launched. IFRA visitors will be invited to join daily tours of our Frankfurt data center to discover why DTI Cloud can deliver 100% uptime.
DigitalSpectrum: A new cloud-based platform with a flexible API for fast deployment of the latest digital revenue products. DigitalSpectrum is how publishers can compete in a speed-to-market world.
DTI ContentPublisher: Engage your audience across all channels with personalized content and local communities. See the latest in mobile tablet apps and social media publishing.
DTI Advertising: An all-new release, DTI Advertising is a 100% browser-based digital solution for booking, creating, and publishing all forms of advertising. DTI Advertising is architected for multichannel media companies that sell package buys for all types of ads and campaigns, including Web, print, email, direct mail, inserts, and social media.
DTI Circulation: All new digital and self-service features add to the power of the industry's number-one circulation software. New digital and print packaged-buy logic has already proven to be a breakthrough revenue generator.
Digital Paymeter: A fully customizable digital subscription solution that helps news media publishers expand digital revenue while maintaining control over customer relationships.
An international team from Digital Technology will welcome guests to Stand 585 and the DTI Cloud Theatre for live entertainment, videos, and interactive presentations of the industry's most complete suite of news media software.
For further information, please contact:
Lisa Speth
Digital Technology
Marketing Communications Manager
801-853-5068
lisa (dot) speth (at) dtint (dot) com
About Digital Technology International: Digital Technology International (DTI™) delivers digital audience engagement, digital revenue expansion and digital cost performance to the global news media industry. The company's innovative technologies and services help media companies engage audiences by delivering targeted news and advertising content via the Web, print, mobile, and social media. On-site or via DTI Cloud, Digital Technology software helps more than 2,000 publishers around the world compete and win across all channels. The company is headquartered near Salt Lake City, with offices in Germany, France, the United Kingdom, Australia, Brazil, Canada, Latin America, and across the United States. Digital Technology may be found at: http://www.dtint.com and IFRA Expo 2012 Stand 585.