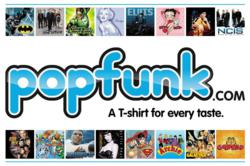 (PRWEB) October 23, 2012
Online t-shirt vendor, Popfunk.com continues to expand its massive catalog of pop culture and novelty apparel items this season. With brand new designs for The Hobbit trilogy, Three Stooges, I Love Lucy and more, Popfunk is closing out 2012 in a big way.
With the release of The Hobbit finally approaching, Popfunk is proud to announce a line of nearly 100 t-shirts for the trilogy. Based on the renowned book by J.R.R. Tolkien, The Hobbit acts as a prequel to the wildly successful Lord of the Rings trilogy. Popfunk's exclusive line of Hobbit t-shirts will whet fans' appetites as the countdown to opening weekend nears its end.
Just in time for the 2012 presidential election, Popfunk has released brand new Three Stooges t-shirts that show off the classic pranksters making their own bids for office. After all, as one of the brand new designs declares, "Any knucklehead can be president."
Popfunk has also released several new additions to its line of I Love Lucy t-shirts. Featuring comic versions of classic Lucy moments like the "Vitameatavegamin" commercial and the chocolate factory debacle, these I Love Lucy t-shirts will surely please fans of the classic comedienne.
To celebrate these additions to Popfunk's already impressive catalog of officially licensed pop culture t-shirts, the company is offering 10% off its entire site until November 23. Simply visit Popfunk.com and enter the following coupon code during checkout: popfunkpr10.