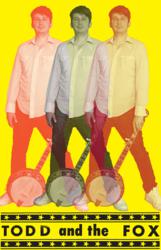 Santa Fe, New Mexico (PRWEB) October 19, 2012
Yes, it would probably make more sense for Todd and the Fox to release its eponymous debut album in its hometown of Santa Fe, NM. Or even Albuquerque. Somewhere in New Mexico, perhaps? The Southwest? The U.S.? Nope. As fortune has it, the electronic-rock duo Todd and the Fox will first make its album debut while in South Korea, as performers at the 2012 Intangible Cultural Cooperation Network (ICCN) World Intangible Culture Festival in Gangneung, South Korea, Oct. 19-28. Todd and the Fox is the house band for Santa Fe, New Mexico's top on-line visitor guide and magazine SantaFe.com.
Here's some more info:

The band will share a multi-media blog of the trip from its Facebook page (https://www.facebook.com/ToddandtheFox)
Todd and the Fox consists Todd Eric Lovato and Erik Sawyer, and features Lovato on electric banjo, bass pedals and voice; Sawyer on drums.
Todd and the Fox will perform 12 shows while at the festival.
The band will not formally release its album in New Mexico until November, but early copies will be available at the band's Oct. 15 show at Santa Fe Sol with Black Joe Lewis and the Honeybears.
The full-length "Todd and the Fox" album was produced by Lovato, over the course of two years, mixed and mastered by Andrew Click, tracked by Jono Manson and features guest appearances by Lumpy (Bryan Highhill) and Española's The Imperial Rooster. Lovato has earned five New Mexico Music Industry Awards during his time as founding member of Felonious Groove Foundation, Fantastic Planet and Skinnyfat.
Todd and the Fox was selected to represent the City of Santa Fe by the Santa Fe Arts Commission, earlier this year. The band will represent Santa Fe art and culture alongside Tesuque Pueblo artist Bea Tioux Duran.
Todd and the Fox will hold album release parties in Albuquerque at Low Spirits, Nov. 17 (with Cali Shaw, Zach Freeman, Imperial Rooster and Alex Maryol); in Santa Fe at Tiny's Restaurant and Lounge, Nov. 30 (with Cali Shaw and members of the Festival Folk Ensemble – led by Mansi Kern, Todd's 80-plus-year-old, accordion-toting grandmother.
For more information and to contact artists:
(505) 480-3865
fox at toddandthefox dot com
http://toddandthefox.com/
https://twitter.com/toddandthefox
https://www.facebook.com/ToddandtheFox
About SantaFe.com
SantaFe.com provides locals and visitors to Santa Fe alike the most current interactive platform for events, music, arts, business, dining and lifestyle. SantaFe.com is a division of Hutton Broadcasting, located at 2502 C. Camino Entrada, Santa Fe, NM 87507
Contact Information:
Scott Hutton
SantaFe.com / Hutton Broadcasting
http://www.santafe.com
(505) 471-1067 (Media inquiries only, please)