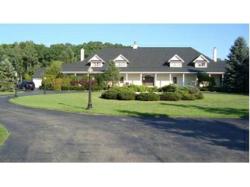 Amsterdam, NY (PRWEB) October 21, 2012
Rosa MacLeod is presenting a virtual tour of her million dollar listing to share just what a rock star really needs—a fully loaded mansion to retreat to privacy or to use for a weekend of partying. The two-story mansion is a larger replica of the Ewing Mansion from the hit television series, "Dallas". It includes all of the amenities that a rock star would expect—and more. The virtual tour is a great way for interested parties to check out the property before calling Rosa MacLeod at 518-348-8678.
The property located at 7 University Place in Amsterdam, NY is situated on 7.8 acres of land, and leaves plenty of space for a helipad so the residents can make a rock-star entrance to any event they are hosting. With the newly resurfaced swimming pool, a tennis court, fitness studio, sauna, and hot tub available, the property is perfect for a weekend of rest and relaxation or for hosting an a party that guests will never forget. Located only three hours from New York City, the house for sale NY is a perfect getaway and with security gating and wrought iron fencing, it is extremely private and secure for those looking to escape the limelight.
No matter what the intention is, buyers are sure to be pleased when they check out Rosa MacLeod's virtual tour via YouTube. It showcases the homes many unique features and eloquent furnishing, which is included if desired. Celebrate the successful life by living like a rock star in this two-story mansion with seven bedrooms and seven bathrooms. Whether to impress guests or to enjoy the privacy of this serene property, the million dollar listing in Amsterdam, NY has something to offer everyone. For those looking to unleash their inner rock star status, call Rosa MacLeod at 518-348-8678 or check out the virtual tour today: http://www.youtube.com/watch?v=yrej9ugm9rs