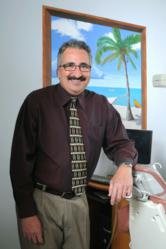 Monroe, CT (PRWEB) October 22, 2012
Dr. Richard Amato utilizes dental implants for many of his patients who are missing one or more teeth. Teeth can be lost as a result of decay or gum disease, or even because of an accident. No matter the reason that they are missing, there are certain problems that crop up as a result. As a periodontist, Dr. Amato educates patients on the problems missing teeth can cause.
When a tooth is not in place to stimulate the jaw, the bone can begin to weaken and disintegrate. As it weakens it can allow the other teeth in the mouth to shift out of their places. This affects the bite and can also cause those teeth to become loose and even fall out. While there are a number of different treatments that can be used to replace teeth, dental implants are considered long-term replacements.
The procedure begins with a titanium implant that is placed in the jaw through a minor surgical procedure. At the top of the implant, an abutment is attached right at the gum line. The abutment is the part of the implant to which the crown is attached. The periodontist carefully places the implants in such a manner that the new crowns will correct the bite for the patient. The crowns themselves are made out of a composite material that is color matched to the current color of the natural teeth. This means that when the patient smiles there are no longer embarrassing gaps but a nice straight smile.
One of the top reasons to use dental implants is the fact that they last for a long time. In fact, implants that were installed more than 20 years ago are still fully functioning. Other kinds of solutions may last for a number of years or even for a decade or more, but most will need replacement at least once in a person's lifetime. While implants may not be for everyone, technology has improved so much that they are viable for most patients. To learn more about periodontist recommended dental implants, visit http://www.connecticutperiodontist.com.
Dr. Richard Amato is a periodontist offering patients personalized dental care for Monroe, Connecticut since 1989. Dr. Amato received his Doctorate of Dental Surgery degree from Stony Brook University where he was awarded the School of Dental Medicine Department of Periodontics Award for Excellence in Periodontology. Dr. Amato completed a specialty post-doctoral residency and received his Certificate of Proficiency in Periodontics from Eastman Dental Center at the University of Rochester. He is part of one percent of dental professionals providing the most recent FDA cleared laser procedure for gum disease and periodontal treatment. To learn more about Dr. Amato and his dental services visit his website at http://www.connecticutperiodontist.com and call (203) 712-0917.