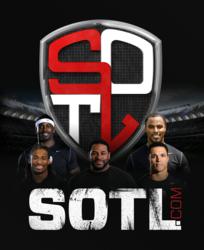 "It's cool that kids can essentially bring 38 Pro football stars home to train them," says Mike Schatz, SOTL's Product Development Consultant.
Nashville, TN (PRWEB) October 19, 2012
SOTLTraining.com, the leading online football training source, announces their elite online training system, "Legends in Training" is available now. NFL running back Maurice Jones-Drew, wide receiver Larry Fitzgerald and tight end Jason Witten join 35 other NFL players for the "Legends in Training" classes that offer unique, position specific coaching that isn't offered anywhere else. The online course includes high definition video of player instruction, graphics, clinics, quizzes, a final exam and certificate.
"SOTLTraining.com is proud to take the knowledge and experience of some of the greatest pros who have played the game and package it for up and coming athletes who want the opportunity to learn from their expertise," said former NFL player and SOTL's Director of Training Ernie Conwell.
SOTLTraining.com recently launched the online training from Manning Passing Academy and is slated to release an exciting new set of courses in 2013 for serious middle, high school and college players, taught by professional coaches and trainers. This new system was created as a part of SOTL's partnership with the prestigious Football University.
"It's cool that kids can essentially bring 38 Pro football stars home to train them," says Mike Schatz, SOTL's Product Development Consultant. "That's essentially what we've done with this class. Now, Vick, Gonzalez, Bettis, Bowe and other greats are accessible on their computer, smart phone or iPad. I even think the parents will love it."
These classes provided an opportunity for current and former players to give back to their fans and young athletes who want to train like a pro, perfect their position and perform at a top level.
"The mission behind SOTLTraining.com is to provide the greatest education and football training tools for young athletes ever created while adding value to the game," said David Byerley, President and CEO of SOTL Training's parent company, School of the Legends. "The online training classes allow us to do just that."
Athletes and coaches can purchase the online training, along with other instructional classes, only at SOTLTraining.com.
More About School of the Legends / SOTL.com & SOTLTraining.com
SOTLTraining.com, is the premier online source for football training classes with the instructional video series "Legends in Training" that feature players such as Peyton Manning, Larry Fitzgerald and Tony Gonzalez to name a few as well as instruction from professional coaches and trainers. SOTL.com and SOTLTraining.com are official licensed partners of NFL Players, Inc.
The sister site, SOTL.com was founded in 2009 as a social media partner of the NFL Players Association and serves as "The Voice of the Players"™ with more than 2,500 current and former players contributing to the site. SOTL.com features weekly football and lifestyle blogs by dozens of NFL players and alumni, including Jerome Bettis, Barry Sanders, Patrick Peterson, Will Smith, Dwayne Bowe, Cliff Avril and others. SOTL.com is the player's site where they comment directly on football news stories of the day and contribute to exclusive player polls that give fans their perspective on the league's most important issues.