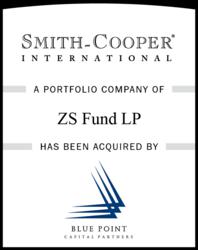 BlackArch exceeded our high expectations in every way.
Charlotte, NC (PRWEB) October 22, 2012
BlackArch Partners is pleased to announce the closing of the sale of Smith-Cooper International, LLC, a portfolio company of ZS Fund LP, to Blue Point Capital Partners.
Based outside of Los Angeles in Commerce, Calif., Smith-Cooper is a leading global producer and value-added distributor of branded, high-quality pipe, valves and fittings (PVF) targeted at mission critical applications with stringent performance requirements. The company serves a critical function in the PVF supply chain by linking high-quality, low-cost Asia-Pacific manufacturers with distributor customers while providing highly valued services that support customer sales growth, efficiency and cost reduction.
Smith-Cooper's management team, including CEO Ron Kurstin, President Bob Cooper and Executive Vice President Ed Beetschen, will continue to lead the company and leverage Blue Point's unique China capabilities and operating network to accelerate the growth of the business.
BlackArch Partners was retained by Smith-Cooper to serve as exclusive sellside adviser on the sale of the company. Specific terms of the transaction, which closed Wednesday, were not disclosed.
"BlackArch exceeded our high expectations in every way," said Bob Horne and Nick Burger of ZS Fund. "They provided senior level attention from start to finish, and we received valuable, thoughtful advice throughout the process. BlackArch developed an in-depth understanding of Smith-Cooper's business and did an excellent job of communicating the Company's unique attributes to the market."
"BlackArch exemplified professionalism, solid business acumen and expertise in their field," said Kurstin. "I was impressed by their collaborative effort and 24/7 reliability and dependability."
Smith-Cooper International, with four strategically located U.S. facilities, distributes over 20,000 pipe, valve and fitting stock-keeping units within 335 product categories to approximately 2,600 customers in the United States, Canada, Mexico, Central and South America, Asia and the Middle East. The company serves a diverse group of end markets, including industrial maintenance, repair and operations; energy; waterworks; HVAC; fire protection; residential/commercial; process; ground water; irrigation; and retail/hardware.
ZS Fund is a private equity firm engaged in making long-term investments in successful middle-market companies. The fund focuses on transactions that provide liquidity to business owners while enabling them to maintain a significant ownership. Since 1985, ZS has invested in more than 40 companies in transactions with an aggregate value of more than $2 billion. ZS Fund recapitalized Smith-Cooper with management in October 2006. This investment was made out of ZS's 5th private equity fund, which has had three exits thus far including Smith-Cooper. These exits have returned 3.6x ZS's initial investment amounts and generated an IRR of 33%.
Blue Point Capital Partners is a private equity firm managing over $800 million in committed capital with offices in Charlotte, Cleveland, Seattle and Shanghai. Blue Point is one of only a few middle-market private equity firms with a presence in the economies of both the United States and China, and the firm's experience with cross-border management and value drivers has provided a distinct advantage for its portfolio businesses. Blue Point invests in manufacturing, distribution and service businesses.
BlackArch Partners is a leading middle-market investment bank offering a full spectrum of advisory services. The firm offers a complete suite of investment banking services to financial sponsors, private companies and diversified corporations, including dedicated industry verticals for Distribution & Supply Chain Management and Industrial Growth & Diversified Manufacturing. Based in Charlotte, BlackArch features a total of 12 industry-focused practices that cover all sectors of interest to middle-market investors; BlackArch professionals have closed over 250 transactions in 16 countries on four continents. Please visit our website, http://www.blackarchpartners.com, for more details.
Securities transaction conducted through BlackArch Securities LLC. Member FINRA and SIPC. Testimonials may not be representative of the experience of all clients. Testimonials are not a guarantee of future performance or success.