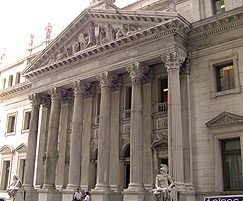 New York, NY (PRWEB) October 24, 2012
On October 2, 2012, a New York Appellate Division panel of judges unanimously ruled in favor of three women suffering from asbestos-caused mesothelioma cancer, stating that the women could consolidate their lawsuits against a cosmetic talc manufacturer into one trial*. The Appellate Division's ruling marks the first time the Court has published such a decision in nearly twenty years.
The Appellate Division ruling states that three female mesothelioma victims – two represented by asbestos lawyers at Levy Phillips & Konigsberg LLP ("LPK") and one represented by another law firm – may try their cases in one joint trial. The women all claim that they contracted mesothelioma as a result of their use of Cashmere Bouquet, a cosmetic talcum powder manufactured by Colgate-Palmolive Co. All three plaintiffs allege that Cashmere Bouquet contained asbestos when they used it.
The trial court originally allowed the plaintiffs to consolidate their lawsuits for trial, which Colgate appealed. The Appellate Division upheld the trial court's decision, however, stating that the trial court "providently exercised its discretion in consolidating these actions for joint trial, as they involve common questions of law and fact."
The Appellate Court also noted that a link between mesothelioma and industrial talc has already been established by courts across the country.
The three women used Colgate's Cashmere Bouquet extensively during an overlapping time period that ranged, in total, from the 1950s through the 1990s.
For over a quarter of a century, mesothelioma attorneys at Levy Phillips & Konigsberg LLP have been among the pioneers of asbestos litigation in America. The firm's lawyers have been recognized as nationwide leaders in representing the rights of mesothelioma victims and their families. Their clients have received some of the largest mesothelioma compensation verdicts in the country.
For more information about this or other mesothelioma lawsuits, please visit http://www.levylaw.com or contact Levy Phillips & Konigsberg LLP at 212-605-6200 or 1-800-MESO-LAW (1-800-637-6529), 24 hours a day, 7 days a week.

Matter of New York City Asbestos Litig., 2012 NY Slip Op 6551, *1 (1st Dep't Oct. 2, 2012).