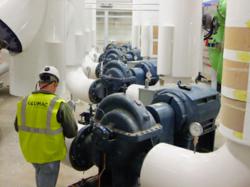 Efficient. Experienced. Building Commissioning
Los Angeles, California (PRWEB) October 21, 2012
Glumac is very pleased to announce its new commissioning department. The new commissioning department will continue to provide owners with fully operating buildings. This is done timely with a commitment to keeping with the schedule. A great deal of attention is given to structure, diligents, and completing tasks on schedule. For more detail, please go to Building Retro Commissioning
The commissioning department has taken a look at and revamped its pricing structure. This will lower the price for owners while increasing productivity. The lowered costs save owners from 6% to 20%. The costs are lowered while at the same time increasing productivity. While lowering the costs and increasing the productivity, the comfort of the building occupants has also been increased.
The commissioning department also detects and resolves construction issues early. With its trained building operators and increased productivity, the commissioning department is able to discover issues more quickly. Then in turn, resolve them faster. The result is a faster than ever before detection and resolution of issues. For more information on this, please visit: http://www.glumac.com/Projects/PR_Commissioning1.html
The new commissioning department is also up to date with California's CALGreen Commissioning. The California Green Building Standards Code (non-residential) requires new buildings with a size of 10,000 square feet or more to include commissioning in the design and construction process. Glumac has several offices in California and its team has been providing commissioning services for CALGreen Commissioning.
The commissioning department is also fully in depth with LEED Commissioning. The new department provides the third-party commissioning services necessary to certify Green Buildings. The USGBC LEED commissioning system maintains the environmental and economic integrity of the project at every turn. This promotes design and construction practices that increases profitability and improve occupant health and well being. All this, while reducing the negative environmental impacts.
The commissioning department maintains its whole building commissioning (WBCx). This WBCx includes energy-using systems, fire & life safety systems, security systems, irrigation & water reclamation systems for new buildings, architecture systems, envelopes, and lab systems.
Other services that the new commissioning department maintains are: facility optimization services, existing building commissioning, and retro commissioning. All 3 services enhance the performance of existing buildings. Among other structures, this can include structures that are underperforming or have unexpected problems, existing facilities undergoing adaptive reuse, or historic buildings that are being preserved or retrofitted.
The commissioning department also has ongoing commissioning. This ongoing commissioning keeps building equipment and systems operating at peak efficiency. Regular building checkups ensure the systems are functioning properly. For a much more detailed description on commissioning, please visit CALGreen Commissioning Los Angeles.
The commissioning department is maintaining its Energy Audits. The new department has a team of commissioning agents, energy analysts and design engineers to perform ASHRAE Level 1, 2 and 3 Energy Audits. The team evaluates energy systems to determine what energy efficiency measures may increase building efficiency. The team performs ROI and simple payback calculations to assist the owner in making educated decisions on which implementations to perform for most savings.
The list of improvements go on, for a full detailed outline of Glumac's commissioning department, please visit:Glumac for your Commissioning Needs.
Glumac has been providing commissioning services for over 20 years. Glumac is commissioning to providing top level performance and excellence. For more information on us, please visit us at: http://www.glumac.com/
Tracy Van Lone, Director of Client Relations
Glumac
(323) 491-6161
http://www.glumac.com/Projects/PR_Commissioning1.html