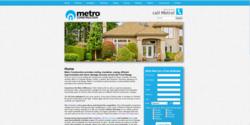 We wanted to prove our trustworthy reputation by providing mostly non-promotional content.
Denver, CO (PRWEB) October 22, 2012
One of the largest construction companies on the Front Range is launching a new website with a focus on ease of use, attractive appearance and beneficial content.
Metro Construction is a multimillion dollar construction company focusing on Denver roofing, insulation, energy improvements and exterior renovation. They are insurance claims specialists with an emphasis on storm damage repair. Their new website will help Colorado homeowners learn about their home and the best ways to improve it.
"We wanted our customers to really get value out of the site," said CEO Jerod Raisch. "We produced a ton of helpful articles that guide them through insurance claims, lead them to rebates or describe exactly how our services can save them money on energy bills."
Part of the Metro Construction mission is "increased customer education" and a focus on trustworthiness. The new website continues this mission by offering educational posts in addition to mere product description. Homeowners can learn every part of their roof, what is required by law on a roofing contract, and how fiberglass and cellulose insulation compare. The articles are, for the most part, unbiased.
"We wanted to prove our trustworthy reputation by providing mostly non-promotional content," Raisch said. "We also wanted to stand apart from the competition with a clean, modern design."
The website stands above the offerings from the competition, which often appear messy or old-fashioned. Much of its appeal comes from a clean design, with small details like a menu that scrolls with the page. These details make the site easy to browse, demonstrating Metro Construction as one contractor ready to enter the modern age. Homeowners can even Live Chat with a representative.
Colorado homeowners can request a quote directly from the website. For more information or to give the slick new design a look, check out http://www.mymetroconstruction.com.
Metro Construction is a Colorado roofer and general contractor based in Denver. They provide roofing, insulation, siding, windows, exterior paint and gutters throughout the Front Range. As a Platinum Preferred Contractor with Owens Corning, Metro offers unbeatable Lifetime Roof Warranties and AttiCat Blown-In Insulation. Many of their services increase energy efficiency, leading to lower bills and a healthier planet.