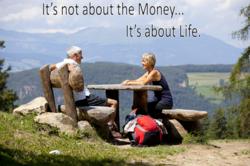 An Ernst & Young analysis finds that almost three out of five middle-class new retirees will outlive their financial assets
(PRWEB) October 26, 2012
An Ernst & Young analysis finds that almost three out of five middle-class new retirees will outlive their financial assets if they attempt to maintain their current pre-retirement standard of living. To avoid outliving their financial assets, middle-class retirees will have to reduce their standard of living, on average, by 24 percent.
A Grand Junction retirement specialist hopes to increase the awareness of how to retire the right way, even in these uncertain times. They are teaming up with a local Grand Junction marketing firm, BlueFinn Creative Group, to accomplish that goal.
A 2012 report from the Economic Policy Institute shows that in addition to declining wages, the gap in wealth is widening. Their "State of Working America" report shows that Americans in the bottom 60 percent of wealth holders saw their net worth decline between 1983 and 2012, and 75 percent of the wealth increases went to the richest 5% of the population.
Other facts to consider are that currently fewer than one-third of all households have more than $10,000 in personal retirement funds. In fact the report shows that Americans are simply unprepared for the responsibility of planning for their retirement.
Those who are concerned about our financial markets and want to prepare for the "next" recession need to learn that recent research re-defines financial planning for retirement.
id all of that, the report said that many Americans appear unprepared to meet their growing responsibility for planning and funding their retirements by managing 401(k)s and other assets.economist who also contributed to the report, said that the most feasible plan now is to protect programs such as Social Security and Medicare that are pillars of economic security for Americans.#The options include a financial stimulus to stoke job creation, more restrictive trade deals, policy to make it easier to organize labor unions, a higher minimum wage and more aggressive Federal Reserve policy aimed at pushing down interest rates and lowering
Western Colorado Community College is offering a comprehensive 3-session course that teaches the principles of conservative investing designed for people between the ages of 45 and 70. Based on recent academic research, this course walks you through difficult retirement decisions. The tuition includes financial tools to help you better understand risk, taxes, budgeting and estate planning. Presented by Barbara Traylor-Smith, President of Retirement Outfitters, LLC, a well-known local speaker who, for the past 27 years, has professionally guided individuals, families, and business owners through financial retirement issues. Some questions we will answer include:
Should I have money in the stock market?
How do I keep ahead of inflation?
Will I have enough?
What is an "anti-nursing home" plan?
Where do precious metals fit in a portfolio?
When is the right time to start taking Social Security?
How do I define my core priorities?
How do I know who to trust?
What questions do I ask a potential advisor?
It is a 3-week course that begins Tuesday, October 30 from 6:00-8:00pm for all those interested in Grand Junction retirement information. Registrations will be taken directly by WCCC at (970) 255-2800.