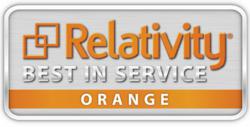 Rochester, NY (PRWEB) October 22, 2012
D4, LLC, a national leader in managed services, litigation support and eDiscovery solutions to law firms and corporate law departments, announced today that Tom Groom, vice president, senior discovery engineer, will present a session entitled: "Real World Solutions," at the Relativity Fest, October 22 – 24, 2012 in Chicago.
When the scope of a corporate review was expanded after an initial review began, D4 used kCura's Relativity to implement an approach that would leverage coding that had been done. This session will discuss in detail the methods D4 used that overlaid document scores in Relativity, propagated review calls and ultimately migrated to priority batches within stated deadlines.
Who:
Tom Groom, vice president, senior engineer, D4
What:
Real World Solutions
When:
Wednesday, October 24, 2012, 3:00 CDT
Where:
Relativity Fest, The Palmer House Hilton, Chicago, Illinois
Why:
Attendees will learn best practices coupled with leading edge predictive coding technology to reduce costs in eDiscovery.
For more information on Relativity Fest, please click here.
About D4, LLC
D4 is a leading national provider of electronic discovery, computer forensics and litigation support services to AMLAW200 firms and Fortune 1000 companies. D4 was one of the first providers to offer an eDiscovery Managed Services solution, eNtrust, which launched in 2011. D4 has been instrumental in helping customers realize up to a 70 percent cost reduction over previous e-discovery solutions. The company's state-of-the-art data center operations in Rochester are complemented by electronic discovery and litigation support offices throughout the U.S. D4 has been recognized by Inc. Magazine as one of the fastest growing private companies in the US and is an INC 500/5000 honoree. Visit http://www.d4discovery.com for more information.