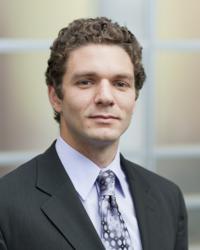 The American College is the best place for me to showcase my talents and evolve as a scholar.
Bryn Mawr, PA (PRWEB) October 22, 2012
Jamie Hopkins, JD, has joined the faculty at The American College as an Assistant Professor of Taxation. The American College is the nation's premier educator of financial services professionals.
In his new role, Hopkins will be responsible for developing curricula associated with The College's new Retirement Income Certified Professional™ (RICP™) designation. The RICP™ program provides financial advisors with the most current and advanced retirement income knowledge available. This knowledge helps professionals develop plans for clients that lead to lifetime streams of income and financial security during their "golden years." Hopkins will also be responsible for teaching a variety of courses in the Solomon S. Huebner School.
"Jamie is part of the next generation of professors at our institution," says Larry Barton, Ph.D., President and Chief Executive Officer of The American College. "His knowledge and strong interpersonal skills make him an ideal faculty member. He is the 'right person at the right time' as we work to fulfill our vision of becoming a fully-integrated distance education institution."
Prior to joining The American College, Hopkins served as a Judicial Clerk in the Superior Court of New Jersey – Appellate Division – for the Honorable Marie E. Lihotz, J.A.D. In this position, he composed bench memoranda on sentencing, zoning, post-conviction relief, contract interpretation and family matters. He also conducted research that aided in the formation of judicial opinions and other court orders.
Before his clerkship, Hopkins worked as a Legal Consultant for Ennovance Capital in Philadelphia. He conducted investor relations and potential business target meetings while with Ennovance. Hopkins also drafted and edited employment contracts, confidentiality agreements, and non-compete agreements.
"As I am extremely passionate about financial and legal services," said Hopkins. "The American College is the best place for me to showcase my talents and evolve as a scholar."
Hopkins earned his Bachelor of Arts in Political Science from Davidson College, along with his MBA and JD from Villanova University. Keen legal research and writing skills have given him the opportunity to have several of his articles published. An avid distance runner, Hopkins enjoys marathons, triathlons, and swimming.
The American College is the nation's largest non-profit educational institution devoted to financial services. Holding the highest level of academic accreditation, The College has served as a valued business partner to banks, brokerage firms, insurance companies and others for over 85 years. The American College's faculty represents some of the financial services industry's foremost thought leaders. For more information, visit TheAmericanCollege.edu.