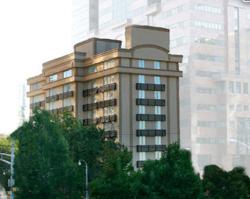 Atlanta, GA (PRWEB) October 21, 2012
Regency Suites Hotel of Midtown Atlanta is proud to announce that is has earned a TripAdvisor® Certificate of Excellence award.
This award is unique in that it is presented to businesses that have consistently maintained TripAdvisor traveler ratings of 4 out of 5 or higher, and have received a high volume of reviews within the last 12 months.
Many traveler reviews on TripAdvisor comment that Regency Suites Hotel's European-style rooms are spacious, clean, and offer convenient and luxurious amenities. Reviewers also enjoyed the hotel's close proximity to Midtown Atlanta's attractions and MARTA station.
The Regency Suites Hotel has received other awards in 2012 including the Housekeeping Manager of the Year and RoomKeeper of the Year by the Georgia Hotel & Lodging Association (GHLA).
Brenadette Faust, Regency Suite's General Manager, said that "We are honored to receive great reviews from our guests as well as the Certificate of Excellence from TripAdvisor. I am also honored to be surrounded by such a dedicated team of hospitality professionals every day. The Regency Suites Hotel has high standards of service and quality and we are committed to providing each guest with a comfortable home-away-from-home while in our home of Atlanta."
"TripAdvisor is pleased to honor exceptional businesses for consistent excellence, as reviewed by travelers on the site," said Christine Petersen, president of TripAdvisor for Business. "The Certificate of Excellence award gives highly rated establishments around the world the recognition they deserve. From exceptional accommodations in Beijing to remarkable restaurants in Boston, we want to applaud these businesses for offering TripAdvisor travelers a great customer experience."
Regency Suites Hotel is located in Midtown Atlanta and serves business and vacation travelers visiting the area. The all-suite upscale boutique hotel offers lodging with a unique and refreshing European style, incorporating comfort and elegance. Located within walking distance to many attractions and award-winning restaurants, Regency Suites is just a block from the Midtown MARTA station, which provides access to the Airport and Georgia World Congress Center.