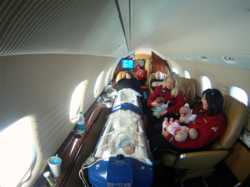 "Patients and families contact us in times of crisis and we do everything possible to ensure their needs are taken care of, both medically and financially," Allison M. Rose RN, BSN, MHSM, Case Manager / Chief Flight Coordinator at Angel MedFlight
Scottsdale, AZ (PRWEB) October 23, 2012
On Wednesday, October 10, 2012, an Angel MedFlight medically-equipped Learjet 60 air ambulance left Scottsdale Airport (KSDL); safely transporting parents Michael and Carmen Matthews and their quintuplets, at no out-of-pocket to the family, over 2,000 miles back home to anxiously awaiting family and friends in Wilmington, North Carolina.
"It took us over two years to get here. And more than one doctor told us we shouldn't have kept all five of them," Mike Matthews, dad, said. "But they are all here and they're all healthy."
After being told by doctors in North Carolina that the birth of quintuplets would be too dangerous; the parents were forced to make a decision. Carmen and Mike Matthews left North Carolina and came to Banner Cardon Children's Medical Center in Mesa, AZ—one of the premier organizations capable of handling multiple births.
All five children were born on September 6, between 7:25 and 7:27am. At birth the smallest baby, Rucker, weighed-in at only 2 pounds, 2 ounces. Due to the low birth weight, Rucker has since been in neonatal intensive care at Banner Cardon. With time and specialized care his weight has improved to the current weight of 3 pounds, 8.5 ounces.
Angel MedFlight has teams of experts in medicine, aviation, insurance, law and case management dedicated to ensuring the highest levels of compassionate patient care and coordination, all administered under the One-Touch-Promise®. The claims specialists at Angel MedFlight found insurance coverage for the flight, resulting-in no-cost to the family. In the air, neonatal flight nurse practitioners/neonatal flight paramedics helped make the trip safe and comfortable for the babies and parents.
"Our team of nurse case managers and insurance specialists work in a joint effort with families and insurance companies to facilitate medical flights," Allison M. Rose RN, BSN, MHSM, Case Manager / Chief Flight Coordinator said. "Patients and families contact us in times of crisis and we do everything possible to ensure their needs are taken care of, both medically and financially."
Flying critical care medical patients is a feat in-and-of itself. Transporting quintuplets and their parents over 2,000 miles on the same critical care medical flight presented a unique challenge.
A medically configured Learjet 60 air ambulance provided the vital high altitude and high speed capabilities required for such a delicate patient transfer.
About Angel MedFlight Worldwide Air Ambulance
Angel MedFlight coordinates domestic and international air medical transportation services, commercial medical escorts, ground ambulance services and provides discretionary insurance benefit assistance. Angel MedFlight's One Touch Promise® assures every detail is handled and all resources are committed to guide the process from start to finish with a compassionate team of experts in the fields of medicine, aviation, insurance law and case management. http://www.angelmedflight.com
###
Media Inquiries:
Jenna Murray
(480) 559-6841
JMurray (at) angelmedflight (dot) com