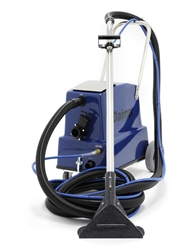 We are pleased so many people in the world want Daimer® carpet steam cleaners and our patented technologies. The company's exports have been skyrocketing, a fact that is also good news for the U.S. economy.
Woburn, MA (PRWEB) October 20, 2012
Daimer Industries, Inc.®, the global leader in American made heated carpet cleaners with sales to over 200 countries, is expanding its product line by introducing new feature-rich carpet cleaning machines. Although the company has been supplying carpet equipment to customers worldwide for years, the introduction of the new XTreme Power® XPH-5950I model is in direct response to thousands of inquiries sent to Daimer® over the recent several months.
Those throughout the world, ranging from consumers to businesses, are seeking compact, yet more high-powered, low-flow, professional carpet cleaners with the same quality for which Daimer® is well-known, even in favor of foreign brands within their own local regions.
"Carpeting is one of the most popular flooring surfaces in the world, and carpet maintenance is the same everywhere," states Matthew Baratta, Daimer® Industries' spokesman. "We are pleased so many people in the world want Daimer® carpet steam cleaners and our patented technologies. The company's exports have been skyrocketing, a fact that is also good news for the U.S. economy."
Conventional vacuum cleaners lack the power to eliminate allergens and deeply clean the fibers. Daimer®'s carpet cleaners, on the other hand, are true carpet cleaning machines. These are the same type and quality used by professional cleaners, businesses, hotels, restaurants, and countless other commercial facilities within practically all sectors of the economies around the globe. The adjustable temperature feature in most Daimer® heated commercial carpet cleaners, including the XTreme Power® XPH-5950I, enable users to clean practically all types of rugs, ranging from high to low pile made of synthetic or natural materials within commercial and residential environments.
Carpet cleaning machines including the XTreme Power® XPH-5950I feature high pressure levels of 11.7 bar to ensure the efficient and effective elimination of dirt, pollen, allergens, dust mites, pet dander, and food stains/substances. These carpet cleaning systems empowered with powerful inline heating elements provide a drastic boost in productivity and cleaning power by heating water to temperatures as high as 98.9°C within approximately 3-5 minutes.
Dry times using the carpet steam cleaners are as low as two hours, and heat can be easily disabled for those cleaning wool or other natural materials that can be negatively affected by higher temperatures. Synthetics like nylon and others can easily withstand heat, which is most effective when users can utilize it. Initializing heat is as simple as flipping a couple of switches.
Currently, all of Daimer®'s wand-based carpet cleaning systems include the company's patented wand with a 12" head, equivalent to an extra vacuum motor, offering 60% greater suction power than any other competitive wand in the world. In addition, the system includes 7.6 meter water and vacuum hoses to allow users to clean up to a 609.6 square meter radius without moving the machine.
Other than the 12" wand, the company's optional 4" upholstery tool is the most popularly purchased wand, which is used to clean spots, stairs, furniture, fabric office partitions, and more. The same tool is used by car dealers and auto detailing professionals to clean interior fabric upholstery and carpeting quickly and easily. Dry time is approximately one hour.
Every Daimer® machine includes enough of our famous Eco-Green® Carpet Care and Upholstery Cleaner to clean up to 19,507 square meters. The soap-free, completely plant based "green chemical" dramatically enhances cleaning results and leaves behind absolutely zero residue for immediate extraction from the carpeting.
Additional Information:
To learn more about Daimer®'s advanced cleaning machines, visit the company's website or call Matthew Baratta at (888) 507-2220. Daimer® offers systems in 220-240 volts, 60 Hz as well as 50 Hz.