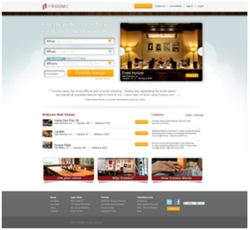 We're very excited about introducing Froomz 1.0 to the SF Bay Area
Berkeley, CA (PRWEB) October 20, 2012
Looking for an event space in San Francisco? Seeking a chic banquet hall in Palo Alto? Froomz.com introduces Froomz 1.0, the recently released alpha version of the Bay Area venue marketplace that instantly connects event planners to venues and vice versa. With a more user-friendly interface and updated features, Froomz 1.0 (http://www.froomz.com) offers a comprehensive solution to finding and renting the perfect place.
Froomz introduced Froomz 1.0 to the techie-fueled San Francisco Bay Area community with a launch party on Thursday, September 27, 2012 at the fabulous 4N5 Gallery. Perfectly planned by Events by Collette and completely catered by Knights Catering and SusieCakes, the event brought together over 100 meeting, event and tech industry professionals in celebration of the site's release and its year-long development process.
"We're very excited about introducing Froomz 1.0 to the SF Bay Area," said Christina Dunham, VP of Marketing at Froomz. "This is the result of 12 months of painstaking discovery and development, balancing what the venues want and what meeting and event planners need. We've received an outpouring of support from the community over the past year, and we can't wait to start working with these powerhouse event planners from Silicon Valley to San Francisco, including Events by Collette, Trendy Lime Events and Designer Fashion cycle."
Froomz worked with venues to help identify what features they required to help manage their inventory and streamline their back-end reservation process, while at the same time conducting interviews, surveys and focus group discussions with meeting and event planners to determine what they needed to make venue selection and reservations online.
Froomz 1.0 includes an unprecedented balance of these findings. Some of the new features added to Froomz.com include the ability to search for venues based on guest count and venue name from the home page, expanded location-based search options that include region and proximity to address, and more options to refine results based on criteria such as venue type, privacy options and configurations.
Froomz plans to roll out more features in the future that will make it even easier for event planners to instantly compare venue rates, location, amenities, size and much more.
For more information about Froomz's services and how they can make planning events in the Bay Area easier and more efficient than ever, please visit Froomz.com or call 1 (800) 963-9248.
About Froomz:
Froomz connects people and spaces, enabling meeting and event planners - and everyone else in between - to search, sort and compare spaces in our marketplace; select and book venues in real time; as well as share events with colleagues, family and friends. Froomz features direct relationships with San Francisco party venues, San Francisco meeting spaces and San Francisco banquet rooms just to name a few. The online event space management system specializes in finding unique venues such as art galleries, museums, photography studios, clubs, bars and restaurants to meet the needs of event planners looking for the perfect place to hold a gathering. It serves as a database that anyone can access for up-to-the-minute information on pricing, availability, and accommodations. Froomz accommodates a variety of rental options, from hourly and daily rates, flat fee packages, food and beverage bundles to per attendee pricing.