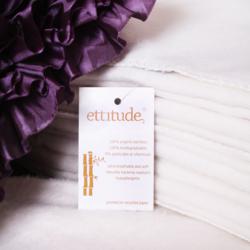 "People should be able to buy eco friendly products without compromising on quality or style. We're passionate about providing our customers with a wide range of environmentally sound products that fit in with their lifestyle" Phoebe ,Founder of Ettitude
(PRWEB) October 22, 2012
Environmentally friendly homeware store Ettitude is launching in the US, offering their range of bamboo sheets, towels and pillowcases made from pure bamboo and organic cotton. After becoming one of the most popular eco stores in Australia, the company are now making their products available to US customers online.
Founded in 2008 by Phoebe Yu, Ettitude is based on the belief that home and family products should be eco friendly and safe, but also beautiful and convenient. Items such as bamboo bed sheets have been created from pure bamboo fibre for their earth-friendly quality.
Founder Phoebe Yu explains, "We use bamboo because it's one of the fastest growing plants on Earth, doesn't require the use of pesticides, and is great at absorbing carbon dioxide from the atmosphere. As well as the environmental reasons, the fabric also has numerous other benefits. It's super absorbent, meaning bamboo towels dry much faster than cotton ones, and great at wicking away sweat from the skin, making bamboo pillowcases and bamboo duvets perfect for hot summer nights."
The company is constantly seeking new ways to improve their eco friendliness. Earlier this year they launched a competition to design a green packaging solution for their bamboo underwear, which now comes in a fully recycled and recyclable cardboard tube. They also created an infographic to explain to their consumers exactly how the bamboo fabric for their products is produced.
Ettitude's bamboo homeware products are also popular with those suffering from skin allergies, due to their natural hypoallergenic properties, and consequently Yu is considering how products which help this section of her customer base can be created in the future.
For further information on Ettitude, visit the Company website, or their Facebook page.