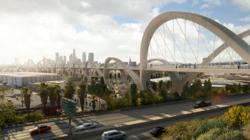 The new Sixth Street Viaduct is a rare transformative opportunity for this community
LOS ANGELES (PRWEB) October 19, 2012
The City of Los Angeles announced today it has selected HNTB Corporation to deliver final design and construction support services for the Sixth Street Viaduct Replacement.
"The new Sixth Street Bridge will be a world-class, iconic piece of Los Angeles infrastructure because of this international design competition and the community's involvement every step of the way," said L.A. Mayor Antonio Villaraigosa at a press conference earlier today. "Los Angeles is where the world creates and innovates, and the selection of HNTB as the winning team reaffirms our ability to cultivate and attract the best and brightest in architecture, design and engineering right here in Los Angeles."
"We're honored to have the opportunity to create a new icon that helps the City of Los Angeles address the need for urban parks and smart, sustainable development," said Gene Bougdanos, HNTB vice president and Los Angeles practice leader. "The new Sixth Street Viaduct is a rare transformative opportunity for this community that will improve mobility, enhance safety, stimulate investment and offer people a place to gather, recreate and connect."
HNTB's winning design features:

A "Ribbon of Light" design concept that matches the family of Los Angeles River bridges and pays respect to the original bridge;
The concrete structure includes signature arches to U.S. Highway 101, serving as an iconic gateway to Boyle Heights;
A new Viaduct Park that will increase the recreational green space available to Boyle Heights residents;
An Arts Plaza that will be a dynamic urban gathering place and a catalyst for economic growth, as well as providing expanded opportunities for public art, including digital murals from local schools and artists;
Easier bike and pedestrian access compliant with the Americans with Disabilities Act; and
Improved access to the Los Angeles River.
It was chosen by a panel made of members from the Bureau of Engineering and Caltrans, with unanimous support from the Design Aesthetic Advisory Committee. The DAAC is made up of stakeholders including community members, river advocates, and design professionals.
Construction is expected to start in 2015 after approval from the Board of Public Works and the Los Angeles City Council. The project, which will create nearly 5,000 jobs, is expected to be completed in late 2018 and opened in 2019.
HNTB has a long-standing presence in Los Angeles, starting nearly 100 years ago with the design of the Colorado Street Bridge in Pasadena and extending to the present with projects such as the I-405 Sepulveda Pass Widening, University of Southern California Galen Center and the new Tom Bradley Terminal at the Los Angeles International Airport.
It's a recognized industry leader in the planning, design and construction of complex, long-span and movable bridges. HNTB's bridge practice has been responsible for numerous award-winning signature bridge projects across the United States including the Leonard P. Zakim Bunker Hill Bridge in Boston; the Blennerhassett Bridge in West Virginia; Bob Kerry Pedestrian Bridge in Omaha, Neb; the Lake Champlain Bridge in New York and the Mississippi River Bridge in St. Louis.
About HNTB
HNTB Corporation is an employee-owned infrastructure firm serving public and private owners and contractors. With nearly a century of service, HNTB understands the life cycle of infrastructure and solves clients' most complex technical, financial and operational challenges. Professionals nationwide deliver a full range of infrastructure-related services, including award-winning planning, design, program delivery and construction management. For more information, visit http://www.hntb.com.