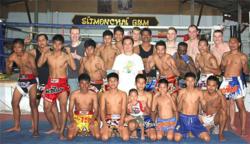 We have two technical sessions a day plus we run 3.5 miles in the morning and 3.5 miles at night. It sounds like a lot but its pretty normal for us. -Jason Farrell (Crazy 88 Muay Thai coach)
Baltimore, Maryland (PRWEB) October 20, 2012
Crazy 88 Mixed Martial Arts Academy, located in Howard County MD, is sending Professional Mixed Martial Arts fighter Jon Delbrugge and Head Muay Thai Coach, Jason Farrell to Bangkok, Thailand for 14 days.
"Its good to get out of your comfort zone and push the training to new levels. Its important for the guys and girls that compete as well as the regular 9-5'ers to get exposed to different styles and systems of technique's" said Delbrugge.
The two members of Crazy 88 MMA will be venturing to the outskirts of Bangkok to live in a gym and train in the art of Muay Thai Kickboxing for 14 days straight twice a day. They will be living the same lifestyle as the up-and-coming native kickboxers with the plan of bringing that knowledge back to the USA and share it with the students of Crazy 88.
"The name of the gym that we are going to is called, Sitmonchai. They have produced a lot of Kickboxing World Champions in Thailand. Its pretty much one of the top Kickboxing gyms in the world." said Jason Farrell.
While most people picture the movie "Hangover 2" when they think of Bangkok, these guys will be as far from that scene as possible. With a grueling training regimen waiting for them when they arrive, they will need all the rest they can get. "We have two technical sessions a day plus we run 3.5 miles in the morning and 3.5 miles at night. It sounds like a lot but its pretty normal for us" Said Farell.
The two travelers are no stranger to long distances and flying. Crazy 88 keeps their competition team busy with a hectic schedule requiring trips to the airport multiple times a month. However, only a very small percentage of Crazy 88 is professional level athletes. About 97% of their student base is the casual business professional just looking for a fun healthy hobby.
Jon Delbrugge explains the usual sequence of events when someone walks through the doors of Crazy 88, "Its funny because people will come in for their first class or just check the place out and they all start off by saying how they are just looking for a new way to workout. Almost no one comes in and says they want to compete. But then sure enough as time goes on it seems like every one develops enough skill to have the ability to compete if they wanted to. The best part is that they're going to be learning real effective MMA techniques, like the ones that we will be bringing back from Thailand."