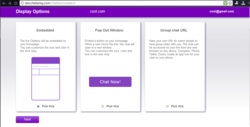 San Francisco, CA (PRWEB) October 21, 2012
The Internet contains almost every bit of information known to men. This fact is based on the hundreds and thousands of niches that are created in the World Wide Web. These niches have millions of subscribers and they convey varying trends every now and then. One of the most notable trends today is home care. The Chatwing Development Team has released a chat widget that can help home care website owners gain the proper online presence they need. The Chatwing app also connects home care websites to the greater part of the world.
Chatwing's versatile chatbox has benefited thousands of bloggers and website owners already. This is because of the useful features that Chatwing app is offering to the public. The Chatwing app can also be installed in just seconds. The user just needs to register his website's domain name. After that, he can now opt to modify the appearance of the widget. Colors, sizes, and even word filters can be modified in the Chatwing dashboard.
Chatwing's free chat widget can also be used by online entrepreneurs who are building a specific brand. With the help of Chatwing's image embedding option, people can now use their own background images. Alternatively, people can also select from Chatwing's background image collection.
The Chatwing free shout box is built to help people foster online relationships. Aside from the niche of home care, other niches will benefit from the improved website chat experience offered by the Chatwing tool.
About Chatwing.com
Chatwing.com specializes in the new field of website chat. Over years, the Chatwing team has introduced live chat widget for hundreds and thousands of blogs. The Chatwing application bridges people from many parts of the world, creating global synergy through the Internet. The shout box can be installed in just seconds, and it can be used for varying purposes such as leisure and Internet marketing. It also allows a user to customize the size, color, and name of the widget. Chatwing is 100% free for everyone.