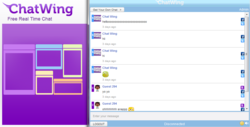 Los Angeles, CA (PRWEB) October 21, 2012
Green living is becoming an active niche that is continuously gathering supporters from different online sectors. This is according to the observation of many professionals and green living experts. Chatwing—a company known for creating chat apps—has launched a new chat widget that can fuel up the green living niche by providing a deep level of communication. The Chatwing chat app appeals to a user's way of experiencing website chat, and the developers are always working on that notion.
Green living blogs and websites are also common nowadays. A typical green living blog discusses tips and walkthroughs on how common household things will become eco-friendly. Chatwing's free chat box can ease up the communication between website owner and visitor by providing 100% ease of access. Chatwing visitors can log in easily with their Facebook and Twitter accounts, increasing the potential of social network expansion.
With the help of Chatwing's free shout box, a website can gain proper online presence in just few days and weeks. Chatwing tool does this by transforming the website into an active and entertaining chat lounge where people can communicate with each other. People can now share information and they can also send important research links. Discussions of personal experiences are also common in any Chatwing chatroom.
The Chatwing chatbox is currently subjected to more developments. In the coming months, the Chatwing Development Team will introduce the chat tool to larger online sectors, paving the way for a grander communication paradigm that can boost the importance of niches.
About Chatwing.com
Chatwing.com specializes in the new field of website chat. Over years, the Chatwing team has introduced live chat widget for hundreds and thousands of blogs. The Chatwing application bridges people from many parts of the world, creating global synergy through the Internet. The shout box can be installed in just seconds, and it can be used for varying purposes such as leisure and Internet marketing. It also allows a user to customize the size, color, and name of the widget. Chatwing is 100% free for everyone.