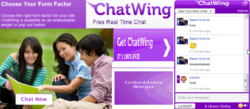 San Diego, CA (PRWEB) October 21, 2012
The Chatwing Development Team has just announced the launching of its newest chat widget. The latest Chatwing chat tool allows the user to connect in online communities and explore various niches—all can be accomplished in mere seconds. Chatwing app's developers have also announced the three important niches that are empowered by the tool. These niches have strong subscriber bases numbering from thousands to millions.
1) Technology – The technology niche explores different stuff, ranging from gadgets to helpful online applications. In this niche, people tend to ask for application tutorials or gadget reviews. Chatwing's free chat box can ease up the communication process by providing a 'bridge' between the website owner and visitor. Now, the visitor can post his questions directly in the Chatwing chatroom and the website can answer in just seconds.
2) Current Events – Everyday, the world is being filled with events that are interesting for many people. Event-seekers can talk about worldwide events through blogs and websites, and opinions are always entertained at a significant level. Chatwing's free shout box can bring excitement to these event-seekers. Once they are enticed well, they will tend to return to the blog or website, increasing its online visibility.
3) DIY – The DIY or "do it yourself" niche has become famous, especially for home keepers and individuals who want to get the best out of their appliances, repairs, and construction plans. The DIY niche consists of varying tutorials, as well as cost-cutting methods that are crucial for everyone. The Chatwing chatbox can help DIY bloggers and website owners establish a subscriber base. According to many people who have installed the Chatwing app in their sites, the connectivity potential of the tool can reach as high as 80%.
These three niches are just simple parts of what the Chatwing chat tool can reach. In the future, more developments will be introduced, widening the reach of the Chatwing app.
About Chatwing.com
Chatwing.com specializes in the new field of website chat. Over years, the Chatwing team has introduced live chat widget for hundreds and thousands of blogs. The Chatwing application bridges people from many parts of the world, creating global synergy through the Internet. The shout box can be installed in just seconds, and it can be used for varying purposes such as leisure and Internet marketing. It also allows a user to customize the size, color, and name of the widget. Chatwing is 100% free for everyone.