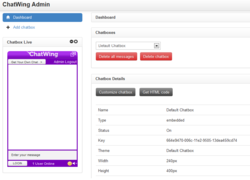 Dallas, TX (PRWEB) October 22, 2012
Chatwing Development Team has recently introduced its latest chat widget with an easy to use MP3 upload feature. This allows users to listen to music while engaging in interesting and informative discussions. Along with the MP3 feature, the Chatwing chat app now incorporates background images, along with word filter parameters. Social media interaction is still included, but it is now faster and more reliable.
Chatwing developers believe that music can entice more visitors to return in the free chat box. This will contribute to the Chatwing app's host blog or website, raising online presence by a variable percentage. Website owners who have uploaded MP3 links received mostly positive reviews from their visitors and they were able to maintain relationships at a better rate. Despite the MP3 activity, Chatwing chat app remains at optimum speed.
Chatwing's free shout box was first introduced in blogging communities. Bloggers who have used the chat tool gained prominent visibility streams for their blogs. Since Chatwing tool is compatible to any website, it can also be used for multiple purposes such as online marketing, niche hunting, research, social dates, and many more. Installation of the Chatwing chatbox takes only few seconds in order to save the time of the admin.
The MP3 feature is a new addition, and the Chatwing Development Team is planning to tweak it in the coming months. At this rate, more music formats can be uploaded, other than links. This can widen the choices of users. The Chatwing team will post its platform developments and updates in its Facebook page and other blogs.
About Chatwing.com
Chatwing.com specializes in the new field of website chat. Over years, the Chatwing team has introduced live chat widget for hundreds and thousands of blogs. The Chatwing application bridges people from many parts of the world, creating global synergy through the Internet. The shout box can be installed in just seconds, and it can be used for varying purposes such as leisure and Internet marketing. It also allows a user to customize the size, color, and name of the widget. Chatwing is 100% free for everyone.