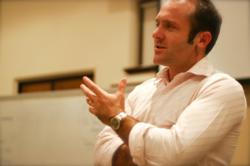 Sex needs to come later in relationships.
(PRWEB) October 20, 2012
A new book called How To Get The Man Of Your Dreams by well-known motivational speaker Jonathan Doyle has proved to be a runaway success in only its first few weeks. Advocating a postponing of sex early in relationships has been turning a few heads.
Based on his extensive postgraduate background and experience as a live seminar speaker the book has had a significant impact on many readers.
The book addresses several key issues in relationship dynamics that are affecting many young people in the modern dating scene.
Doyle states, "After many years working as a professional speaker and communicator in the area of relationships and intimacy I began to notice some dominant trends that were impacting so many young women. Let's be clear, there are many fine young men around but finding them can be harder than ever."
Many of the ideas in the book are destined to cause robust debate. Doyle's message could be construed by some as advocating a return to a traditional relationship dynamic. He highlights a belief that relationships that are sexualised early are frequently destined to run into trouble. He argues, "It's crucial that young women at least understand something of what their grandmothers would have known. I'm not arguing for a return to a repressive sexual or relationship structures but that generation did understand that taking large amounts of time getting to know a person was a crucial first step in developing relationship longevity."
Doyle seeks to make the point that despite a significant cultural focus on increasing girls self-esteem there remains many problems for young women with regard to issues such as body image, self harm and substance abuse. The book argues that until these deep underlying issues are addressed some young women are likely to make consistently poor choices by mistaking any attention from a man as desirable.
The book offers many stories of young women that Doyle has met in his live seminar presentations who have shared stories of deep pain and unhappiness as a result of poor relationship decisions. Key sections of the book offer distinct strategies to address these key issues. Doyle believes that it is possible to achieve relationship success but that it will require some significant changes of both beliefs and behaviours to see true change come about.
In the coming months, Doyle will be making a series of live appearances to talk about the key principles in the book.