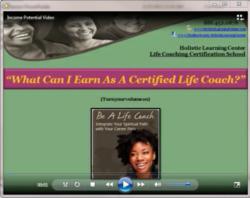 HLC's system is an actual healing modality.
Forked River, NJ (PRWEB) October 22, 2012
In order to earn abundance it helps to be an expert in the field of your endeavor. For budding life coaches Holistic Learning Center ensures this ground of expertise by providing its life coaching certification students with a solid education based on the philosophies of dozens of nationally known self-help authors.
The education that Holistic Learning Centers provides its life coaching students is unique in the industry because their system is an actual healing modality that helps students link philosophy and knowledge with a clinically proven, experientially based training system that allows graduates of Holistic Learning Center to build successful referral based private practices and charge over one hundred dollars per session.
By using Holistic Learning Center's clinically proven life coaching success system life coaches are able to help their clients create the permanent behavioral changes they are looking for.
In a 2007 global career research project by Price Waterhouse Cooper, it was discovered that full time life coaches earn an average of eighty three thousand dollars per year with many life coaches trained to a level of professional excellence like Holistic Learning Center provides, make well into six figures.
Since 1993, Holistic Learning Centers experience combined with over fifty thousand life coaching field hours has shown that a typical client will remain with a coach for an average of thirty sessions. At the same time HLC recommends its life coaches charge at least $100 per session, making each life coaching client worth an average of three thousand dollars. All a student has to do is bring their loving and caring attitude and Holistic Learning Center provides an all inclusive clinically proven success system.
For those whose self-help libraries are composed of authors such as Doreen Virtue, Deepak Chopra, Pema Chodron, A Course in Miracles, Eckhart Tolle, Stuart Wilde, Eric Butterworth, Conversations with God, Abraham-Hicks, Wayne Dyer, Dr. Phil, John Grey, Marianne Williamson and Anthony Robbins, Earning a life coaching certification from Holistic Learning Center may put money in the bank.