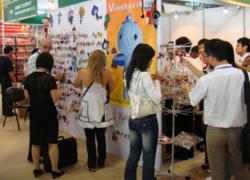 For those who have an interest in Voodoo Dolls, they should not miss the great chance we offer.
(PRWEB) October 20, 2012
Dayuvoodoodolls.com, a professional Voodoo Dolls manufacturer, now is launching a promotion of 10% discount coupons to acknowledge new and old customers. "When customers visit our website and subscribe to the newsletter, they will get 20% discount coupon. The discount coupon can be used to buy all products on the website." Said, Jake, Marketing Manager of Dayuvoodoodolls.com.
Voodoo Doll originated from Southern Africa, and later spread to other countries outside of Africa. Now, Voodoo dolls have been very popular in North America and Europe. Many people believe that Voodoo Dolls can bring them unique luck, love, achievement, health, and safety.
Brain, a Chinese restaurant manager from London, said, "We use Voodoo Dolls to promote our business. Every customer buys a meal will get a free Voodoo Doll, and this has helped us to attract more customers. Last month, our turnover has increased 28%. We are preparing to place some new orders for the Christmas' coming."
Voodoo Dolls are very popular among young people as well. With the iPhone 5' release, many fashionable people use Voodoo Dolls as iPhone 5' chains. When you walk along the street, you will find Voodoo Doll has been a fashion nugget already. Voodoo Dolls are used for handbag accessories, mobile phone chain, key chain, and personal collection
Jake emphasized, "All our Voodoo Dolls are handmade. We have 5 series Voodoo Dolls, and the bestseller is Voodoo Spell Series. We hope they can bring good luck to our customers soon. For those who have an interest in Voodoo Dolls, they should not miss the great chance we offer."
The company's products mainly include 200 different designs of 4-8cm, and some models of 10cm, 15cm, 25cm and 35cm. Furthermore, they provide OEM service also.
About Dayuvoodoodolls.com
Founded in 2006, Dayuvoodoodolls.com is a professional manufacturer specializing in Voodoo Dolls in China, all of which are made of imported cotton hemp string. Dayuvoodoodolls.com has its own top designers and more than 100 skilled workers. With flexible market strategy, latest styles, and acceptable prices, Dayu Voodoo Dolls have been exported to Japan, Korea, Malaysia, Germany, Spain, USA, Mexico, and, etc.
More information about Dayu Voodoo Dolls can be found at http://www.dayuvoodoodolls.com/