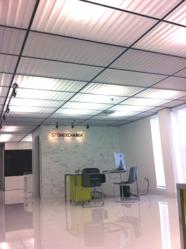 We're strategically located here to guarantee immediate shipments of sills and thresholds and to serve the US market all of their natural stone flooring and accessory needs
MIAMI, FL. (PRWEB) October 22, 2012
Recently, Stonexchange acquired a new office, and much larger 18, 000 sq. ft. warehouse space in Doral, FL. The expansion was necessary to adequately manage the current and forecasted growth of the Wholesale Supplier of Marble Window Sills and Marble Thresholds. Volkan Yazici, President of Stonexchange, previously sub leased the premises with another business. Once the other business decided to relocate, they were free to occupy the entire premise.
"It couldn't have come at a better time. We didn't want to entirely relocate due to our convenient location," says Mr. Yazici. We're strategically located here to guarantee immediate shipments of sills and thresholds and to serve the US market all of their natural stone flooring and accessory needs," continues Mr. Yazici.
The expansion was inevitable in order for Stonexchange to be able to sufficiently house additional staff, products and inventory. The company's inventory features window sills and thresholds in five stones and colors in multiple sizes and finishes; Travertine, Nuevo White Carrara, Crema Sahara Marfil, Absolute Black Granite and Pure White Engineered Stone.
"Our company is really at a point where it is thriving, attracting new clients and adding more products to our line," says Mr. Yazici. "Our years of expertise, and anticipated demand for select inventory, necessitated the need for a much larger warehouse and product showroom," he continues.
###
Stonexchange is a Manufacturer and Wholesale Distributor of Marble Window Sills and Thresholds in Doral, FL. The company works nationwide with tile distributors, flooring companies, home improvement stores, flooring contractors and builders but they do NOT work with home owners directly. Contact them today if you are looking for a dependable supplier and to find out more information about the five materials offered in their line of quality products.