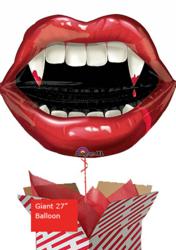 Whatever their ages, it's great fun for kids to dress up and join in the fun on Halloween. Over the years we've experienced more and more demand for our Halloween deliveries. This year, we've extended our range to offer more Halloween items
Halifax, West Yorkshire (PRWEB UK) 22 October 2012
Big Fat Balloons, the online balloons, teddy bears and gifts retailer has put together its top six Halloween party ideas to help everyone enjoy some freaky fun on the scariest night of the year.
Whether it's Halloween party ideas or preparation for a night of trick or treating, Big Fat Balloons have some great Halloween items to put you in the haunting mood.
"Whatever their ages, it's great fun for kids to dress up and join in the fun on Halloween. Over the years we've experienced more and more demand for our Halloween deliveries. This year, we've extended our range and offer everything from Halloween balloon decorations to loot bag treats." said Sophie Baxter, Big Fat Balloons managing director.
1 - Glow sticks
Create a ghostly glow with glow sticks. From bracelets to necklaces or even glow stick wands these colourful glow in the dark items make perfect party bag gifts. Easy to activate and loved by kids of all ages, light sticks are also great for accessorising Halloween outfits.
2 - Terrifying Halloween party balloon deliveries
Scare someone silly by sending them a Halloween balloon gift. Imagine the look on their face when they open a great big gift box and a giant Vampire teeth balloon pops out for a bite! Choose from large bubble pumpkin balloons, giant bloodshot eyes or happy ghost-shaped helium balloons.
3 - Creepy chocolate items
Get your own back on the trick or treaters this year by handing out scary novelty chocolates. Fill loot bags with chocolate spiders, or slide a milk chocolate worm into the trick or treat buckets. Test how brave the little monsters really are, by offering them a bucket of white chocolate maggots. These scary-shaped novelty chocolates are disgustingly delicious Halloween ideas.
4 - Light up LED balloons
Ilooms are child-safe glow in the dark LED balloons, which add the finishing spooky touches to any Halloween decorations. Hang those light-up balloons outside the front door to entice trick or treaters passing by. From just £3.59* for a pack of five, the price is the one thing that isn't scary about these illoom Halloween decorations.
5 - Halloween decorations for ghoulish gatherings
Balloons make great Halloween decorations. Ranging from plain colours latex balloons to printed seasonal and luminous glow in the dark balloons, there's something for everyone. Add a professional touch to your party by creating phantom floating Halloween party balloons with the help of a disposable helium canister.
6 - Uglydolls - celebrities favourite monsters
Despite having a face only a mother could love, Uglydolls are taking the world by storm. With their scary looks, terrifying teeth and ferocious fangs, they're the perfect gift to give on Halloween. Take a look at Icebat, who looks as if he's flown straight from Transylvania, or the pumkin-coloured Cozymonster Little Ugly. It's hard not to fall in love with these adorable, Uglydolls.