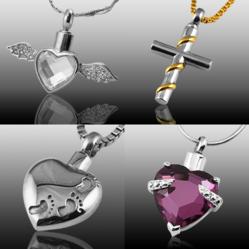 We are trying to offer families a memorial cremation jewelry pendant for the lowest cost possible in those hard economic times.
Corpus Christi, Texas (PRWEB) October 22, 2012
Memorials.com is helping in those hard economic times with a new release of cremation jewelry pendants for the ashes of your loved one. Keep the memories of your loved one alive for years with beautiful cremation jewelry for ashes available at very reasonable prices. Memorials.com proves that there is always an easy and inexpensive way to keep a loved one close to your heart with its new range of stainless steel pendants starting from as low as $19.95. The price factor allows this new collection of cremation jewelry reach people with low budget to give the ultimate tribute to a loved one's life journey.
At Memorials.com, there is a wide range of styles and shapes of low cost cremation pendants that cater to different tastes and preferences. This new range of funeral jewelry is available in the shapes crosses, hearts, other religious symbols or even innovative symbols where it is possible to easily store a small amount of cremation ashes belonging to the deceased.
For those who want very unique jewelry for cremation ashes, Memorials.com also offers cremation ash pendants where the cremation ashes are mixed in with the hot glass and fused together to form beautiful pieces of cremation pendants. The ashes of a loved one provided by a customer are handled with care and dignity by the craftsmen.
At Memorials.com there is also a good collection of pet cremation jewelry which can hold a small amount of remains, a piece of fur or something that is small enough to memorialize your beloved pet and bring them close to your heart.
About Memorials.com
Memorials.com is a leading provider of memorial and funeral products for both humans and pets throughout the USA and Worldwide. Memorials.com deals with a wide range of cremation urns, memorials, headstones, caskets, cremation jewelry, funeral jewelry, pet urns, and many other memorial products to help honor the memory of your loved one. All the products available at Memorials.com priced reasonably with no hidden costs and can be order 24x7. The experienced team of Memorials.com takes pride in providing a high quality of service to each of their valued customers.
For more information, please visit: Memorials.com