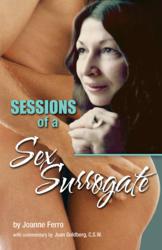 It would give me great satisfaction to know that this small volume has provided some deeper insights into areas of widespread concern about our sexual well-being and confidence
Las Vegas, NV (PRWEB) October 22, 2012
Helen Hunt is being hailed as daring in her new role as a sex-surrogate therapist in the movie "Sessions," to be released this month in theatres across the country.
But Joanne Ferro dared to embrace the pioneering career of a sex-surrogate therapist beginning three decades ago in her efforts to help heal hundreds of men with sexual issues that kept them from warm and tender love relationships. Until, that is Ferro, worked with them. It was a controversial calling, and one that was not always easy.
"You're dealing with every kind of personality," said Ferro, who worked for 14 years as a sex-surrogate therapist beginning in 1980.
In her ebook "Sessions of a Sex-Surrogate," Ferro talks frankly about her work as a sex-surrogate therapist, acknowledging that this meant sleeping with — having sex with — hundreds of men to help them find out where their troubles came from, how to deal with them and finally let them go. Only then were they able to embrace life and love, she said.
"It was never about sex," she said of her often-misunderstood chosen career. "Surrogacy is a tool for healing, and discovering healthy intimacy."
Ferro, now in her late 60s, often worked with a team of specialists including psychotherapists, neurologists, urologists, nutritionists and others to help find the safest and best treatment for her troubled clients. In "Sessions of a Sex-Surrogate," Ferro examines her own path into this work, as well as the stories of five different former clients, their issues and treatment. Some suffered from childhood trauma, some were painfully shy, and one, an alcoholic, had spent thousands of dollars and hours on therapists and doctors, only to be told his problem was in his head. After extensive work with him during which he quit drinking and joined AA, Ferro felt his was not, finally, an emotional issue but a physical one. Some doctors disagreed. Finally, the mystery was solved, and Ferro was correct. The man went on to find healthy, physical intimacy with a partner.
Ferro and other sex-surrogate therapists do not have sex with all their clients, but only the ones who would benefit from this step along the way to healing.
She said that while some common sexual problems like premature ejaculation are openly discussed in our society, others go much deeper, and require more than talk therapy. Now a certified life coach, Ferro worked as a family-service director at a mortuary for 15 years after retiring as a sex surrogate. She said that like death, sex is too often a taboo topic.
Most of her therapy clients were "men who were paralyzed with fear of talking about and approaching what was really going on with them," she said. She hopes her book will show "someone who's going through situations that are very difficult to discuss, that there is help available."
Ferro worked closely with Joan Goldberg, a clinical social worker, who often provided traditional therapy to Ferro's clients. Goldberg's point of view of some of the clients and their treatment is included in "Sessions of a Sex-Surrogate."
Is the life of a sex surrogate fun and sexy? In fact, Ferro said, it is both exhausting and rewarding.
"I tried to work with no more than two to three people a day," she said. "Then I'd have my life with the girls and all that to take care of."
When Ferro began this work she was the mother of three small children and amidst a difficult divorce. "Here I was, a good Italian Catholic with three young daughters. I would do this work, and then come home to be a mom. It was crazy, but I always knew it was important work."
Ferro, who went through extensive healing therapy herself, was determined to work with the men who needed the intimacy and sharing of therapeutic sex before they could have a positive breakthrough. Many of them had been seeing traditional therapists for years before they came to Ferro. Most of her clients left sex-surrogate therapy feeling strong and healed. Some took months, others more than a year.
"I've stayed in touch with some of my clients, and even attending some of their weddings," Ferro said. "I helped men's partners, too, to understand the issues. I've received hundreds of thank-you notes from the men and sometimes from their wives or partners."
Ferro believes the work of sex-surrogate therapist is essential in the healing of some people with deep sexual issues.
"The most important thing is creating a safe space," she said of the consensual sex-therapy agreement between herself and her adult clients. "The real healing can begin when someone knows you care."
Ferro said her work followed in the footsteps of sexual-studies pioneers Masters and Johnson and Alfred Kinsey, all who did groundbreaking work in human sexual behavior.
She believes her book will help bring sex surrogacy out of the closet, to be deemed a professional therapeutic service akin to psychotherapy.
"It would give me great satisfaction to know that this small volume has provided some deeper insights into areas of widespread concern about our sexual well-being and confidence," she writes in the book's introduction. "And for those who still believe there are no answers to their sexual problem, may it offer new reason to hope."