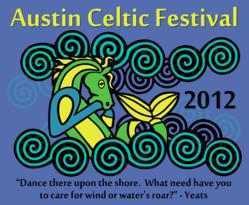 "One of the few remaining festivals that celebrate the authentic music, honed by the Celtic people. The ACF goes beyond gimmicks to highlight traditions and achievements of the Celts."
Austin, Texas (PRWEB) October 22, 2012
Time: Noon to 7:30pm Sat and Sun
Gates open at 11am
Fiesta Gardens
2102 Jesse E. Segovia
http://www.austincelticfestival.com
Donate $12 in advance online at the fest website and receive a free ticket for every donation of $12 or more. Tickets at the gate are $15.00 a day, kids under 13 get in free.
The Austin Celtic Festival is proud to host some of the world's leading Celtic artists including Moya Brennan (you may know her from the Irish supergroup, Clannad or sister to Enya), Le Vent Du Nord an awarding winning band from Canada whose music is steeped in the music of their early Scottish settlers. Plus Irish traditional icons, Matt Cranitch (Sliabh Notes) and Jackie Daly (De Dannan), Maurice Lennon, and John Williams (founding member of Solas). Maurice Lennon will be joined by the emerging talents of the Willis Family hot off their win in the group category at this year's All Ireland competition. They will be joined by Celtic music stars The Prodigals out of NYC and Runa with Dave Curley (Slide). Plus the ACF music panel has selected the top scoring regional and national bands to perform at this year's fest including Cross Strung, The Tea Merchants, The Silver Thistle Pipes and Drum, Finvarra's Wren and more.
New this year, the ACF will be providing opportunities for local musicians to attend "FREE" workshops by many of the headlining musicians. Lectures include beginners and advanced Irish fiddle, Irish drum (bodhran), Classical music of the Highland Pipes, Irish Flute and Whistle and historical lecture: The life of Scottish hero Rob Roy.
The fields at ACF will be brimming with activity including displays of mini horses, Clydesdales, sheepherding, Highland Games, Viking Invasion battle demos, a small Celtic village and more.
The ACF has four dance troupes (Hill Country Highland Dancers, The Inishfree Irish Dancers, Austin Scottish Dance Alliance and the Austin Scottish Dance Youth Team) delivering amazing dance performances plus beginning dance workshops from Scottish Country Dance to Irish Ceili (party) Dance.
The local GAA (Gaelic Games) group, The Celtic Cowboys will also be on hand this year to show and demonstrate Gaelic Football and Hurling skills and a 7 vs 7 scrimmage.
Media badges are available. Please send request to austincelticfestival(at)gmail(dot)com before 10/27/12.
For more information or interviews contract: austincelticfestival(at)gmail(dot)com