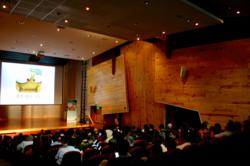 "The Next Angry Birds, with gorgeous GPS-based Levels" - Techcrunch
New York, NY (PRWEB) October 21, 2012
After an intensive year of development, Saborstudio, a New York and Costa Rica based gaming studio and a DreamIt Ventures' accelerated startup, announces the release of its first title, Pota-Toss. The game's launch presentation was held last Thursday, where the startup's founders formally realeased the game on the App Store for both iPhone and iPad, in front of a packed auditorium.
The App became an immediate hit in the startup's home country of Costa Rica where the game was first made available; within 24 hours it ranked as the #1 Top Free App and the #3 Top Grossing App on the local App Store. It was released on the App Stores worldwide this Saturday.
Pota-Toss is a social artillery game, where the main character, Larry Potato, must defend his home from horde of rotten Spuds trying to spoil it. However, the most important feature in the game is not the intuitive controls, but the amazing sceneries, which reflect the player's true location in the world.
Saborstudio has designed over 100 location-aware scenarios including all major cities in the United States and other countries around the world. Using the GPS available on most mobile devices, the game presents the user with a screen landscape that portrays a creative representation of the geographic position (cities, landmarks,...) where the user is located. With this feature, players will get to see not only their location but their opponent's, on a virtual tour through the recreated world of Pota-Toss.
The tuber-tossing concept first reached the public eye last year, when it successfully completed a Kickstarter Campaign, raising over twice its original goal. Since then, the game has garnered acclaim; Techcrunch and CNN called it "The Next Angry Birds" and BusinessInsider compared its graphics to a Pixar movie.
The App also features an innovative ad system, that allows advertisers to sponsor a game-level in the form of a highway billboard. Billboards blend in with the landscape, offering very aesthetic and non-invasive exposure to the players, within the game. With this structure Saborstudio intends to revolutionize the mobile ad system by reinventing the way ads are displayed, while integrating the location-aware features on the game.
Pota-Toss is now available FREE on App Stores Worldwide, for both iPhone and iPad.
For more information you can contact José Cayasso, CEO of Saborstudio at +1 (347) 329-3854 or at jose (at) saborstudio (dot) net.
About Saborstudio, a New York and Costa Rica based startup focused on building a Stunning Location Aware mobile game platform.