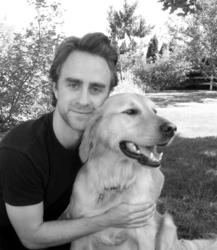 I realized that no one was providing a natural treatment for depression in pets.
Portland, OR (PRWEB) October 30, 2012
21-year-old entrepreneur Max Marvin was using a light therapy box in an attempt to quell his ever worsening insomnia when he sparked a new business idea propelling him into the pet wellness industry. Just months after founding Pawsitive Lighting, Marvin is proud to announce the launch of the Sol Box, which is the world's first light box designed to treat pets suffering from seasonal affective disorder.
A light therapy box simulates sunlight for those who may not be receiving adequate amounts and can help balance mood and sleep regulating hormones. Though he found the light therapy highly invigorating, his dog Luke was even more drawn to the box. Anytime the light was out, so was Luke, eyes memorized by the rays. After further research, Max found that vets frequently prescribe Prozac and other SSRIs to pets suffering from a lack of sunlight. " It was at this moment that I knew I was onto something," says the young entrepreneur. " I realized that no one was providing a natural treatment for depression in pets."
As it turns out, pets too need sunlight in order to live a happy and healthy life. The sun works to balance an animals circadian rhythm and boost the "feel good" hormone serotonin. Without adequate exposure to sunlight a pet can become lethargic, anxious. and even depressed. Gaining a wealth of manufacturing experience from his other company, Bare Creations, Max knew exactly where to begin. He quickly teamed up with a manufacturer in England who was experienced in developing high quality light therapy devices. Before long they had a working sample to unveil at Portland's pet Expo.
"The response was tremendous," Max states. "People were thrilled to find out they could treat their pets anxiety while avoiding pharmaceuticals. They were even more excited to know that the Sol Box is safe for human use as well."
Pawsitive Lighting will begin shipping units by mid-November. The company hopes that the Sol Box will help spawn a revolution in the pet wellness industry. Pet lovers everywhere should rejoice any move away from harmful pharmaceuticals and towards holistic medicine.