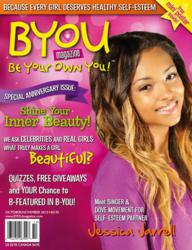 When I was on tour with Justin (Bieber), people would comment that I was not pretty enough because they thought I was fat.
Denver, CO (PRWEB) October 22, 2012
The girls' self-esteem magazine, BYOU "Be Your Own You," features singer Jessica Jarrell in the newest October/November issue available now in bookstores nationwide. At 17 years old, Jarrell has already toured with both Justin Bieber and Cody Simpson, starred in a Nickelodeon movie, performed at the White House for President Obama, represents Pastry Shoes as a Brand Ambassador for 3 years, and now is partnered with the Dove Movement for Self-Esteem.
"I've always wanted to be a part of something like this for young girls, because growing up I remember having beauty issues and it was a source of anxiety for me and I know it is for so many girls today," says Jarrell. "I want girls to understand that being confident makes you feel beautiful – I definitely had to learn that with help from my mom and sisters. I love being a part of the Dove Movement for Self-Esteem because I see so many girls struggle with low self-esteem and think it's not good - but it can definitely be changed and helped if they know who to talk to and how to look at themselves."
BYOU Magazine's Publisher and Founding Editor Debra Gano selected Jarrell to feature for its one-year anniversary issue that focuses on the topic of inner beauty. "Jessica is a great positive role and she really is beautiful inside and out," states Gano, author of the best-selling Heartlight Girls series book, Beauty's Secret, A Girl's Discovery of Inner Beauty. "I've been a big fan of Dove's campaigns to help build self-esteem in girls, and Jessica represents them, and our magazine, so perfectly."
Jarrell feels she can relate to how girls judge each other by outward appearances. "When I was on tour with Justin (Bieber), people would comment that I was not pretty enough because they thought I was fat. It made me sad that girls thought being a size 7 was fat, because it's actually a very normal size! I don't believe a girl should have to worry about what weight she is or what size pants she wears."
When asked advice she can offer young girls, Jarrell advises, "Try talking to someone like your mom or a positive role model in your life. Even things like getting a manicure together can automatically open up a conversation and offer you support. But it also goes past people just telling you positive things – you have to go into yourself and be willing to realize what's important. For me it helps to focus on things that I like doing, like singing, dancing, and swimming. I feel beautiful when I feel I've accomplished something, doing something I'm good at, or something that makes me happy."
BYOU Magazine is distributed in booksellers throughout the US and Canada and available by subscription for $17.97 at http://www.BYOUmagazine.com.
# # #
ABOUT BYOU MAGAZINE:
BYOU "Be Your Own You" Magazine inspires 'tween' girls ages 8-15, with a mission to build self-esteem in girls in fun and powerful ways. It features positive celebrity role models, 'real' girls making a difference, and informative articles to help navigate distressing issues girls face today such as bullying, friendships, peer pressure, and body image. It also gives girls opportunities to be featured themselves and entertains with games, contests, giveaways and more – all with the objective of empowering and building self-esteem. Founded by Debra Gano - national self-esteem expert, best-selling author of Beauty's Secret: A Girl's Discovery of Inner Beauty, and former professional model/actress - BYOU Magazine gives girls the freedom to be themselves, to know their value, and to inspire them to not only make their own lives more fulfilling and joyful, but to make the world a better place. It is distributed nationally through Barnes & Noble and other bookstores or available by subscription at http://www.BYOUmagazine.com. The magazine's message is reinforced with Be Your Own You positive-messaging apparel available at http://www.BeYourOwnYou.com.
BYOU Magazine Founder & Publisher Debra Gano and the teen celebrities are available for media interviews - please call (855) BYOU-MAG (296-8624) for more information.