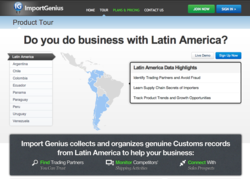 Our goal is to collect the shipping manifest for every international trade transaction on earth.
Phoenix, AZ (PRWEB) October 22, 2012
The Internet continues its inexorable march toward universal transparency this week with ImportGenius.com's release of massive new collections of shipping manifest data.
With this latest update, the web service for global trade professionals now contains cargo manifests for more than 150 million shipments exported from nine Latin American countries. ImportGenius.com makes this Latin American trade data searchable, revealing the shipping volumes, product trends, trading partners and more for exporters throughout the region.
When combined with the company's previously released database of shipments imported into the region, this new release has positioned ImportGenius.com overnight as the starting point for researching import-export companies in the region. The Latin American trade data includes Customs records on imports and exports for Argentina, Chile, Colombia, Costa Rica, Ecuador, Panamá, Paraguay, Peru and Uruguay. ImportGenius.com also now offers data on imports entering Venezuela in addition to its flagship offering of trade data from the United States.
"Our goal since we launched with U.S. ocean freight import data 5 years ago has been to collect shipping manifest data for every international trade transaction on earth," says ImportGenius.com President Ryan Petersen. "We just got 150 million shipments closer."
The firm's verified shipping records reveal the actual shipping activities, and in many cases the suppliers and customers, for importers and exporters throughout the region. Import-export businesses use ImportGenius.com to gain insights relevant to their businesses, whether about suppliers, competitors, customers or any other company in the global trade industry.
ImportGenius.com clients can start accessing these new datasets immediately through a simple upgrade to their existing account. New clients can sign up online to access the database of individual countries shipping manifests for as little as $99 per month.
About ImportGenius.com
ImportGenius.com is a world leader in collecting, organizing and making sense of Big Data on the international trade industry. Through advanced data management technologies, the firm is able to help its clients make sense of hundreds of millions of shipping manifests and customs records from government agencies and private companies around the world. ImportGenius.com clients access these data through a simple web application that provides insights into the real-time shipping activities of their competitors, suppliers, and others in the import-export space.