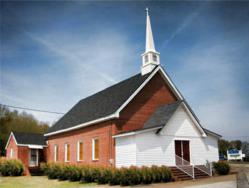 Today the social landscape is rapidly changing and as Pastor keeping up with this flow of new media platforms is vitally important
Canon, GA (PRWEB) October 22, 2012
Rice Creek Baptist Church in Canon Georgia gets a new website from Pure Web. Rice Creek Baptist Church has been in Canon for over 100 years. A lot has changed since those days and since then Rice Creek Baptist Church has grown into a large group of bold and active believers. Pure Web was the perfect choice for Rice Creek because Pure Web is a local Canon company that provides excellent service for the dollar.
Being in rural Georgia Rice Creek Baptist Church has long been the standard print and paper church utilizing bulletins and bulletin boards to inform congregants of upcoming events and news. Being a church in 2012 brings its own challenges and churches have to be able to adopt new technology as the way information is transferred between people has changed dramatically.
"Here in Canon Georgia you will find a small town full of people that are used to a hand shake and a smile to go along with the news, and the updates in the community," explains Pastor Terry Wood of Rice Creek Baptist Church. "This type of communication is what Rice Creek has been used to for over 100 years. Today the social landscape is rapidly changing and as Pastor keeping up with this flow of new media platforms is vitally important. We constantly have to search the horizon to see what is next that can help get the word out. Pure Web was able to deliver a cost effective solution and built a website that allows us to quickly make edits and changes on our own and that works seamlessly with our Facebook page keeping us relevant to those we serve."
Rice Creek's new website has many new features to further engage members of its congregation. Website visitors can download or stream the current week's sermon or any past sermon from the online archives. Visitors can also submit prayer requests, get directions to the church, keep up with important calendar events, and find out more about the church in general. First time guests will also enjoy the ability to learn about the church prior to visiting.
Pure Web's work with other churches in the past gave them the insight to know what features were needed. Pure Web is also very cost conscious and understands the tight budgetary requirements churches have. With giving down across the board churches have to do more with less and every expenditure of money has to be done wisely.
About Rice Creek Baptist Church
Rice Creek is a place where we believe that we are a family serving our savior together with outstretched arms to all. We expect that the bible will expose the truth about Gods love, Jesus passion and the victory of salvation. Rice Creek Baptist Church is located at 3287 Highway 17 Canon GA 30520 For more information please visit http://www.ricecreekchurch.com